Dictionary

Young British Artists

The term "Young British Artists" is a collective term for the flock of British artists and for a special art phenomenon that began in the late 1980s. Intrinsically tied with the genesis of the Young British Artists are a number of exhibition projects on the one hand, but also the collecting activities of the London art dealer and advertising manager Charles Saatchi, whose acquisition policies decisively determined the canon of Young British Art.
The exhibition "Freeze", initiated by Damien Hirst (born in 1965), in an empty warehouse in the London Docklands in 1988, is regarded as the founding exhibition of Young British Art. The 16 participating artists, besides Damien Hirst himself, Angela Bulloch, Sarah Lucas, Gary Hume etc., were all students at the London Goldsmiths College. The positions that were represented in the exhibition reflected the structure of the artist's place of training in all its heterogeneity, from installations to painting. The established genre borders were repealed and students were able to gain experience in all fields of artistic activities.
Additionally, the regular exhibitions in the Saatchi Gallery increased the success and popularity of the Young British Artists even more. A groundbreaking role is also ascribed to the exhibition "Sensation" (1997), also organized by Charles Saatchi, in which works that had become icons of Young British Art were shown. Among them were the eerily mutated children figures of Jake and Dinos Chapman ("Tragic Anatomies", 1996), the tent with the names of all of Tracey Emin's lovers on it ("Everyone I Have Ever Slept With 1963-1995", 1995), the shark that had been preserved in formalin by Damien Hirst ("The Physical Impossibility of Death in the Mind of Someone Living", 1991) or the self-portrait of Marc Quinn ("Self", 1991), which was cast in clotted blood.
Charles Saatchi had to face a bitter loss in 2004, when a fire in a depot destroyed a large part of his collection of Young British Art.
+
Sold lots top 100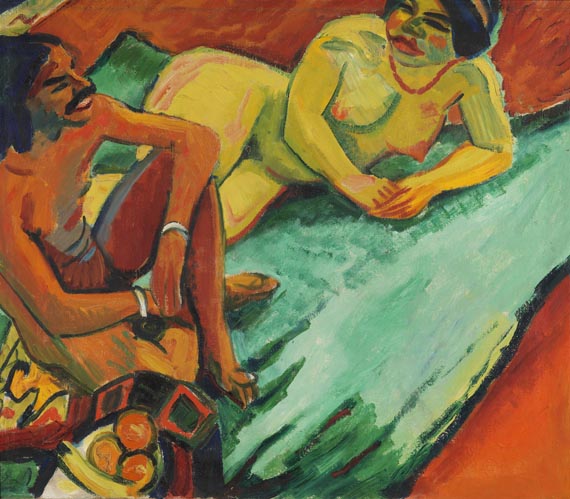 Hermann Max Pechstein