Dictionary

Worpswede

A group of artists settled in the town of Worpswede near Bremen at the end of the 19th century, seeking a place for inspiration and refuge in the countryside. Just as many other artists in those days, for instance the Dachau School or the Blaue Reiter (Blue Rider), the Worpswede artists were simply tired of life in the big city and found a charming atmosphere in the moor landscape. Fritz Mackensen started the colony in 1884 and explained his choice with his fancy for the special light ambience in Worpswede. Further artists joined him as of 1889, contributing to the establishment of the "Worpswede Artists' Colony" as a fixed term in culture and art history. The group broke up as several members had passed away and because the town had become too fashionable after the first world war.
The Worpswede artists were attracted by the melancholic moor landscape and the unique light ambience with its diffuse colors. Thus they turned their attention to the genre of landscape painting and followed the model of the French School of Barbizon and, first and foremost, Impressionism. But the artists were also interested in the life and hard work of Worpswede farmers.
One of the most important characters of the colony was the artist Paula Modersohn-Becker, she started out executing typical moore and birch landscapes, just as her colleagues did. However, influenced by French painting, she turned more and more to portraits and still lifes. These works are characterized by a monumental plasticity that is dominated by a certain articulateness and simplification. She and the Worpswede colony in general are regartded as precursors of Expressionism.
The poet Rainer Maria Rilke and his wife, the sculptress Clara Rilke-Westhoff, were often guests in Worpswede. He tried to capture the atmosphere in his poems. Other important Worpswede artists were Hans am Ende, Bernhard Hoetger, Fritz Mackensen, Otto Modersohn, Richard Oelze, Fritz Overbeck und Heinrich Vogeler.
+
Sold lots for Worpswede Top 100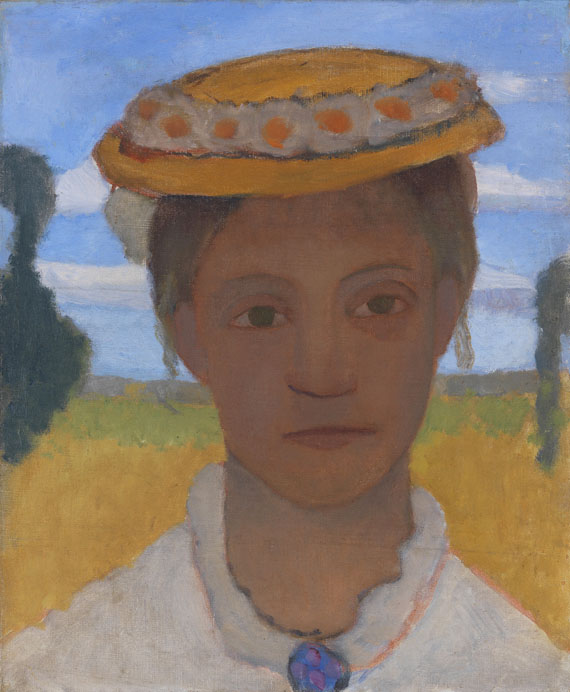 Paula Modersohn-Becker