Dictionary

Wiener Werkstätte (Vienna Workshop)

Two leading artists of the Secession, Josef Hoffmann (1870-1956) and Koloman Moser (1868-1918) founded the Vienna Workshop in 1903, their project was supported by the industrialist Fritz Waerndorfer. The project was inspired by the English and Scottish Arts and Crafts Movement, works thereof where shown in exhibitions of the Vienna Secession and were quite successful. The ultimate ambition of the Vienna Workshop was to valorize arts and crafts and to give it the same artistic value as painting and sculpting. Furthermore, members of the Vienna Workshop, just as their British colleagues, aspired the ideal of the Gesamtkunstwerk, meaning a harmony between the building and its interior design, this plan was put into practice in the sanitarium in Purkersdorf, the church "am Steinhof" and in the Palais Stoclet.
Metal-, lacquer-, bookbinding-, and leather workshops were set up, as well as a carpenter's workshop and a textile- and fashion department a little later. The artists followed the models of the Arts and Crafts Movement, but were also strongly inspired by Japanese art as well as Austrian "Empire" and "Biedermeier". However, members of the Vienna Workshop found their most important source of inspiration in the "Glasgow School" with its liking for the rectangle. Thus the square became the basic form of all decorative patterns. This principle was applied almost programmatically in the design of a logo for the Vienna Workshop: A rose consisting of three squares, framed by six concentric rectangles. On par with these forms' austerity and simplicity, Josef Hoffmann preferred to use black and white.
As of 1907 the factual style of the first years had to give in to new tendencies that were a bit more playful. The new style's most important representative was Dagobert Peche (1887-1923), who had joined the Vienna Workshop in 1915, during World War I he was director of its Zurich sales agency. The crisis of the post-war years had a bankruptcy in 1932 as consequence, the Vienna Workshop finally broke up.
The Vienna Workshop employed numerous artists of the Vienna Secession, such as Gustav Klimt and the young Expressionists Egon Schiele and Oskar Kokoschka. Their attempt to ennoble decorative art also called numerous critics into action, mostly from the circle around the architect Adolf Loos (1870-1933), who had summed up his principles in the famous polemic pamphlet "Ornament und Verbrechen" (Ornament and Crime).
+
Sold lots Top 100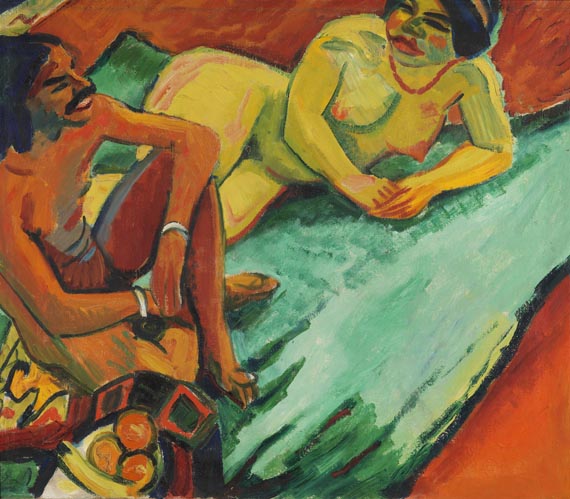 Hermann Max Pechstein