Dictionary

Weimar School

In art history, the term Weimar School of painting refers to a plein air- realist tendency in landscape painting that developed at the Weimar Saxon Grand Ducal Art School (1860-1919).
The period from the 1870s to the 1890s is of a special relevance, as it was the time when the ideas of French Pleinairism (School of Barbizon) and Impressionism were taken on and integrated into the curriculum.
The first director of the progressive institution was Stanislaus Graf von Kalckreuth, who appointed numerous modern artists, especially those who considered themselves obliged to realist landscape painting, to teach at his school. Around 1880, artists such as Theodor Hagen and the director's son Leopold von Kalckreuth regarded en plein air painting as the only valid method of landscape art. Arnold Böcklin and Franz von Lenbach, who started teaching at the art school from an early point on, had their share in the development. Additionally, Alexander Michelis had discovered the direct rural surroundings to be his favorite subject and also introduced printing as a subject, which had been quite unusual until then.
Thus the Weimar school of painting taught what could not be learned in official schools elsewhere, the "paysage intime", following ideas of the School of Barbizon.
The school's landscape class, and both its teachers and students, formed the style of the Weimar art school, which was often characterized by an easy flow, an accentuated local coloring and a sensual atmospheric character, however, the individual artists brought forth works that were quite different in style.
Next to the landscape, rural farm scenes also became subjects; for instance in the landscapes of Leopold von Kalckreuth made after 1885. The latter also revolutionized the teaching methods and replaced the traditional "gypsum class" with a "nature class", in which students did no longer make casts of ancient sculptures, now they made studies and drawings of their models in nature. Pursuing the same objective, Albert Brendel, who was in charge of animal painting, worked with his students in a glass house. Max Thedy taught a form of Realism in his portrait class that followed Leibl.
Numerous young artists managed to find their style in the art school's modern and progressive surroundings, by the same token, they shaped the Weimar School of painting. Among its main representatives, especially as far as landscape art is concerned, are Christian Rohlfs, Paul Baum, Franz Bunke, Paul Tübbecke, Karl Buchholz, Ludwig von Gleichen-Rußwurm, Emil Zschimmer, Erika Zschimmer, Max Merker, Carl Arp and Eduard Weichberger.
By the turn of the century, the innovations of the Weimar School of painting had become general common sense. Over the following years, a new generation of teachers shaped the school's style.

+
Sold lots Top 100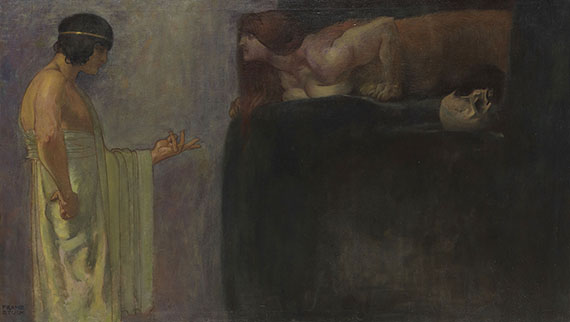 Franz von Stuck