Dictionary

Vorticism

Vorticism (Lat. vortex = whirl, storm) describes the English variant of Futurism. The term that evokes association of dynamic movement goes back to an expression by the futurist Umberto Boccioni, was coined by Ezra Pound in 1914.
The artists' group of Vorticism congregated in 1914 and created its organ with the magazine "Blast". Several manifestos fixed the movement's theoretic basis, besides Ezra Pound, artists such as Percy Wyndham Lewis, William Roberts, Edward Wadsworth, Christopher Nevinson, Henri Gaudier-Brzeska, Helen Saunders, David Bomberg, Frederick Etchells were also participating. Along with Futurism, which could gain foothold in England after Filippo Tommaso Marinetti's stay in London, impulses from Cubism and other avant-garde tendencies were also integrated.
The painting of Vorticism is characterized by a dramatic and emotionally expressive use of forms, that occurred in both a linear form as well as in a futurist interaction of forms. Next to painting, other genres also occurred in Vorticism. The sculptor Jacob Epstein created the plastic main work of Vorticism with his ready-made "Felsenbohrer" (Rock Drill, 1913-1915). Spatial art, textile works and architectural designs can be seen in the light of Vorticism (for instance in the context of the "Omega Workshops"). In terms of typography and layout, the magazine "Blast" counts among the greatest achievements, as it was the medium that published important vorticist woodcuts. The works by the photographer Alvin Langdon Coburn are known as abstract "Vortographies".
Vorticism saw its heyday around 1915, other tendencies, at times surreal or magic-realistic, were established successively in the English avant-garde.
+
Sold lots Top 100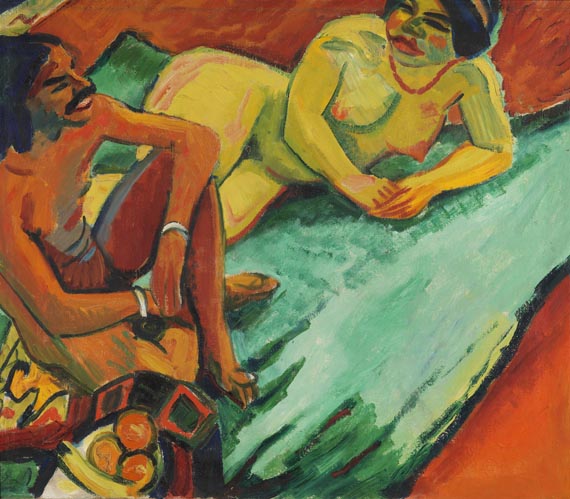 Hermann Max Pechstein