Dictionary

Venetian High Renaissance

In the early 16th century, Venice was a flourishing republic and trade city. It was one of Italy's most important artistic centres, alongside Rome and Florence.
For Florentine painters, drawings and compositions were the key elements of an image. But for the Venetians, colour played the most important role.
Giovanni Bellini (c.1430-1516) is regarded as the pioneer of Venetian high renaissance painting. He was one of the first to abandon working with tempura colours, in favour of oils imported from Flanders, and displays an unusual approach to colour and light in his later works.
In Venetian painting, the message and emotionality of the picture was often conveyed through the use of colour. Giorgione (c. 1478-1510) was particularly successful at this, and with the aid of a shimmering, almost electric palate, depicted the threat of a coming storm in his work "Storm" (1508). His other works are lyrical images, consisting of flowing, soft lines executed in warm tones, such as "Laura" (1506) or the "Slumbering Venus" (c. 1509).
Titian's (c. 1485-1576) paintings also attest to this accomplished approach to colour. His later works in particular, are lent a particular materiality by loose brush strokes, colours and pigments. This is exemplified in the Munich "Crown of Thorns" (c.1570). Titian was also a renowned portrait painter. He painted lively, almost animated, and profoundly psychologically infused portraits, which explain their history to the viewer. The leading Venetian painters of the subsequent, more mannerist generation, include Tintoretto and Veronese.
+
Sold lots Top 100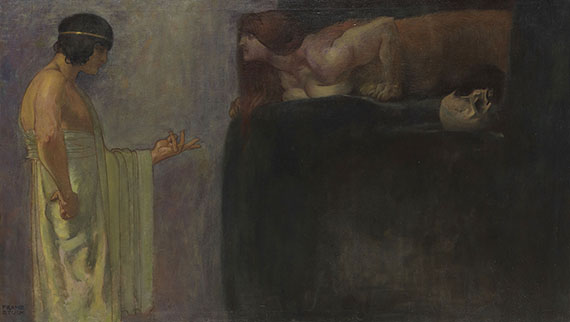 Franz von Stuck