Dictionary

Ulm School of Design

The "Hochschule für Gestaltung" (Ulm school of design) was founded by Inge Aicher-Scholl, Otl Aicher and Max Bill, who had studied at the Bauhaus, in Ulm in 1953.
At first, the teaching principles of the Ulm school of design and the Bauhaus were quite similar. The first basic course, in which the student's visual abilities were trained, was geared at the prep courses at the Bauhaus. Walter Peterhans was a former Bauhaus member; Helene Nonné-Schmidt, widow of the Bauhaus master Jost Schmidt, taught after Paul Klee's methods; Johannes Itten and Josef Albers were giving guest lectures. In compliance with the workshop principle, the students worked in different departments throughout their study time, among them visual communication, construction, product design and film design. Over the time, the Bauhaus teachings were regarded from a more and more critical perspective and finally lost in importance.
Among the most renown design objects from the Ulm school of design is the "Ulmer Hocker" (Ulm stool), designed by Max Bill, Hans Gugelot and Paul Hildinger in 1954, which was supposed to serve every student as a both plain and universally usable piece of furniture that was easy to transport by means of a handle.
The separation from the film department, which became an independent institute, led to a worsening of the financial situation, the school was finally closed in November 1968. However, the school's influence was carried forth by former students and teachers alike.

+
Sold lots Top 100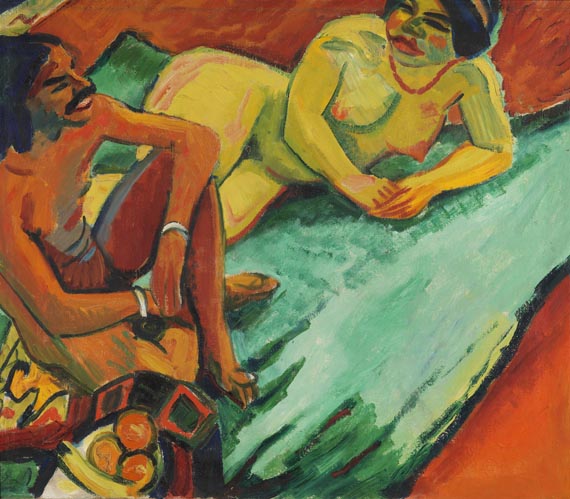 Hermann Max Pechstein