Dictionary

Nouvelle École de Paris

Nouvelle École de Paris takes its name from the École de Paris, which emerged in the 1920s, and included artists such as Pablo Picasso, Amedeo Modigliani, Joan Miró, Chaim Soutine, Max Ernst and Marc Chagall.
In contrast, the Nouvelle École de Paris was active between c. 1945 and 1960. The name does not refer to a style, but rather was a synonym for the development of abstract painting in Paris, post-World War Two. The Nouvelle École de Paris was of particular significance for Art Informel, Tachism and Lyrical Abstraction. It laid the groundwork for these movements and existed simultaneously. The artistic positions in the Nouvelle École de Paris entered public consciousness through numerous exhibitions, held in the early 1950s.
French artists who were associated with the Nouvelle École de Paris included Jean-Michel Atlan, Raymond Guerrier, Jean Dubuffet, Pierre Soulages, Nicolas de Staël, Gustave Singier, Jean Fautrier, Jacques Busse and Jean Messagier, amongst others. The school was associated with foreign artists such as Hans Hartung, Horia Damian, Natalia Dumitresco, Greta Freist, Bram van Velde, Serge Poliakoff, Richard Mortensen and Ida Karskaya. The group was also in contact with the CoBrA artists.

+
Sold lots Top 100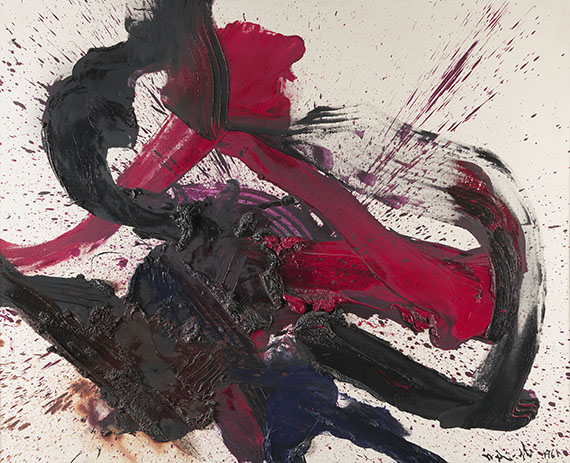 Kazuo Shiraga