Dictionary

Newlyn School and Artist Colony St. Ives

Newlyn and St Ives, two neighboring picturesque fishing villages near Penzance in Cornwall, were the homes of the two most important British artists' colonies that followed the model of the French painter's villages Pont-Aven and Concarneau. The locals of these scarcely inhibited villages appreciated the artists, as they hoped for economic improvement through tourism.
In 1883 the American James McNeill Whistler was one of the first artists in St Ives, along with his students Mortimer Menpes and Walter Sickert. However, they only made en plein air sketches and small formats on lids of cigar boxes. En plain air painting, if the rainy weather on the British coast allowed, was in the focus of the painting school for landscapes and maritime art, founded in 1895 in St Ives, led by Louis Grier and Julius Olsson. Meanwhile St Ives had become populated by numerous artists which did not only come from England, worthwhile mentioning are the Finn Helene Schjerfbeck, the German Franz Müller-Gossen, who also spent some time in Newlyn, the Swede Anders Zorn and Edward E. Simmons from Massachusetts. An art gallery opened in St Ives in 1889, and the famous "Arts Club" was founded in 1890.
Maritime subjects were characteristic for St Ives paintings - whereas Newlyn artists were more interested in local scenes, e.g. people doing their everyday work. Artists active in Newlyn were, among others, Frank Bramley, Thomas Cooper Gotch and Walter Langley. Elizabeth and Stanhope Forbes, who had already been to several artists colonies all over Europe, founded a painting school in Newly that was strongly influenced by Jules Bastien-Lepage in 1889, four years after they had arrived. This school, just as the one in St Ives, attracted numerous artists, some even worked in both villages, such as Percy Craft. The Newlyn Art Gallery was established in 1895, where works of the Newlyn School were presented to the general public.

+
Sold lots top 100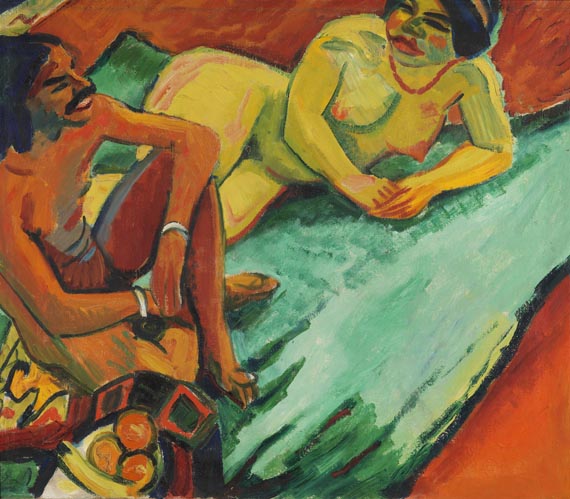 Hermann Max Pechstein