Dictionary

New Leipzig School

Within the tendency of an obvious return to a more figurative and concrete painting, which began as of 1990, the New Leipzig School must be regarded as an individual phenomenon.
First of all, it is important to mention that all representatives of the New Leipzig School completed their academic training at the Hochschule für Grafik und Buchkunst in Leipzig (Leipzig School for Graphic and Book Art), where they were taught by members of the first and second generation of the Leipzig School, among them Sighard Gille, Bernhard Heisig, Wolfgang Mattheuer, Arno Rink and Werner Tübke. Tying in with the figuration of their teachers, the representatives of the New Leipzig School put an emphasis on figurative art. Despite this similar feature, the young artists attained a quite different world of imagery.
The most famous representative of the New Leipzig School, Neo Rauch (born in 1960), composes strange, eerie and bizarre worlds with an encrypted symbolic content in his large-format paintings. Unlike Neo Rauch, whose image space is less deep and more two-dimensional, Matthias Weischer (born in 1973) fathoms out the effects of his often splendidly ornamented interiors, using a visible construction raster. The traditional landscape genre completes the spectrum of Matthias Weischer. On the contrary, Tim Eitel's (born in 1971) paintings speak a cool and rational language, not only are the spatial impressions that he captures in his paintings scant, dismal and empty, the figures also seem to epitomize existential matters and reflect loneliness and helplessness.
Other representatives of the New Leipzig School are Tilo Baumgärtel, Martin Eder, Aris Kalaizis, Martin Kobe, Christoph Ruckhäberle, David Schnell and Michael Triegel.
+
Sold lots top 100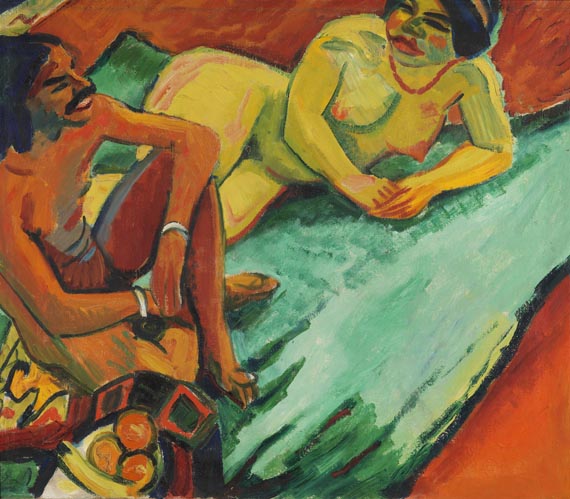 Hermann Max Pechstein