Dictionary

Neo-Rococo

Neo-Rococo (also called "Louis-Philippe") is a subcategory of European Historicism. It has its roots in France in the 1830s, where also Rococo had its beginning in the epoch of the Régence around the 1760s. Neo-Rococo was in full bloom between 1830 and 1860, before the style, just as many other "neo" styles, came to an end towards the turn of the century.
Neo-Rococo is not so much an architectural epoch, but an era with a focus on furniture, arts and crafts and interior decorations. Rococo's repertoire of forms and its ornaments were revived, for example the very popular rocaille. Furniture is characterized by a gently curved style, fittings consist of molded frames, the s-shaped legs end in volutes.
The style quickly spread from France to the rest of Europe. Especially Vienna was quite susceptible to the decoratice charme of Neo-Rococo: The redesign of Palais Liechtenstein (1837-49) is regarded as the crowning achievement of Neo-Rococo, also the interior refurbishment of Schloss Schönbrunn as of 1869. In Bavaria, where rococo had already been quite popular at court, the so-called "Märchenkönig" (Fairy tale King) Ludwig II. was especially fond of the frisky rococo style of Louis-quinze (around 1730-55). Consequently, he furnished Schloss Linderhof entirely in Neo-Rococo: The music room (1874) was decorated under the theme of "Fêtes galantes" its wall panels richly decorated with gilt volutes, tendrils and blossoms, the gilt stucco works in the dining room (1872) reflect the room's function, showing fishing, hunting, grape gathering and harvesting scenes.
+
Sold lots Top 100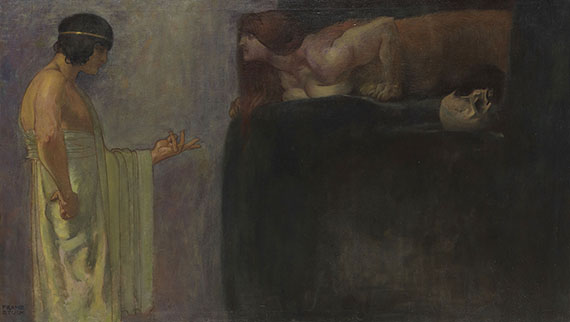 Franz von Stuck