Dictionary

Neoclassicism in Classical Modernism

Neoclassicism in classic Modernism was mostly reflected in painting and sculpting. This phenomenon generally found expression on the basis of the same principles as historicist Neoclassicism, which occurred in the late 19th century, it was characterized by a reference to both classic antiquity and 18th century classicism.
Artists of classic modernism, such as Georges Braque (1882-1963), Juan Gris (1887-1927) and Pablo Picasso (1881-1973) show neoclassicist tendencies in their works. Following the period of synthetic Cubism, Pablo Picasso referred to the classic tradition between 1917 and the early 1920s, and combined these influences with the results of his creations so far. A longer stay in Italy had surely influenced Pablo Picasso, as it enabled him to study ancient art and Renaissance. Works such as the portrait "Olga in a chair " (1917) or the design for the curtain of the ballet "Parade" (1917) radically broke with Cubism which had split up perspectives and planes and, turning to a more two-dimensional figuration that emphasized the line. Besides that, the monumental and clearly outlined female portraits, made in the early 1920s, seem to reflect posture and dresses of ancient sculptures (for instance "Seated female nude, drying her foot" or "Three Women on a well", both from 1921).
Distinguishing from the progressive thinking of the futurists, some Italian artists also propagated a return to the old masters, their techniques and concept of art. The firs and foremost representative of "Pittura Metafisica" was Giorgio de Chirico (1888-1978), who declared in "The Return to Handcraft" in 1919, that he was a "classic painter " ("pictor classicus sum").
Artists such as Georg Kolbe (1877-1947) and Adolf von Hildebrand (1847-1921) are worthwhile mentioning for the field of sculpting, their concept of the body resulted from an examination of ancient Greek and Roman plastics.
+
Sold lots Top 100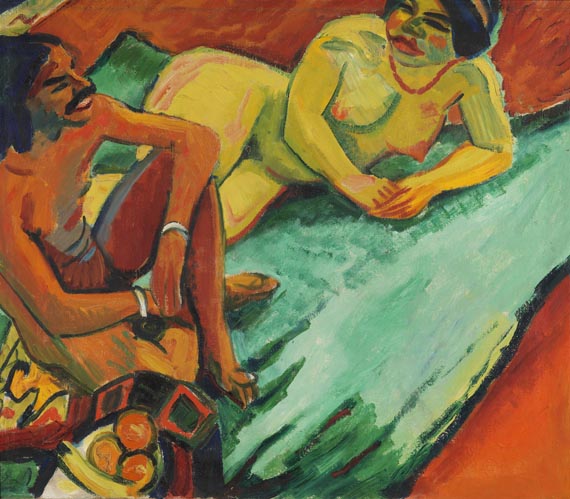 Hermann Max Pechstein