Dictionary

Neo-Gothic

While the Neo-Rococo style was mainly found in furniture, arts and crafts and interior decoration, the Neo-Gothic style is mainly regarded as a tendency in architecture. As a subcategory of Historicism in the 19th century it reverts, just as many other comparable "neo"-styles, to the repertoire of older styles, in this case, of course, the Gothic style with its typical pointed arches, crockets and pinnacles.
The Gothic Revival is one of the most important "neo"-styles, it had its early days in England as early as in the 18th century, where the liking for the old Gothic tradition was stronger than in other places. With the style gradually spread, different concepts of it could be found in France, England and also Germany. It was treasured in France for its airiness and the related constructional conditions; Gothic was regarded as a national style in Germany, finding its visual expression in Neo-Gothic (one of the first Neo-Gothic buildings was the Gothic House in the Wörlitzer Park, built after plans by Friedrich Wilhelm von Erdmannsdorff as of 1773). The style was popular in England mainly because of its picturesque and decorative effect - Horace Walpole's country house "Strawberry Hill" (1749-77) is an impressive example thereof, just as the London Houses of Parliament (construction began in 1840) by Augustus Welby Northmore Pugin and Charles Barry, which is a remarkable proof of the representative effect of Gothic Revival. Important Neo-Gothic buildings in the German-speaking region are the Votivkirche in Vienna, completed in 1879, with its twin towers, the spires and rich tracery, making it one of the main works of Neo-Gothic church architecture, as well as the new town hall in Munich (1867-1909).
The usage of Neo-Gothic forms was accompanied, especially in Germany and France, by the efforts to complete unfinished projects as well as to preserve constructions, for example the cathedral in Cologne and in Ulm. Churches were the prime domain of Neo-Gothic architecture, so that aftereffects thereof can still be observed even after the end of Historicism in the 20th.

+
Sold lots Top 100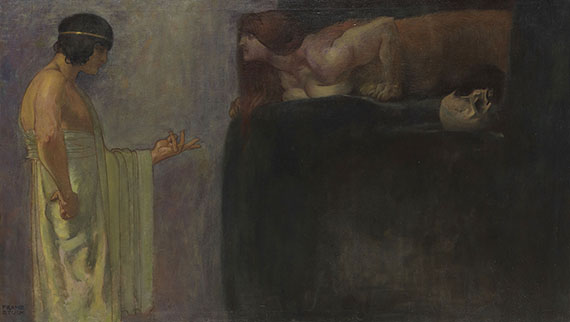 Franz von Stuck