Dictionary

Neo-Expressionisms

The international Neo-expressionism of the 1980s, which is often used synonymously with the terms "Neue Wilde" (New Wild Ones) or "Heftige Malerei" (Vigorous Painting) in Germany, connected with the expressive-figurative tendencies of "Neuen Realismus" (New Realism) from around 1960, as they were particularly obvious with the "Ersten Neoexpressionismus" (First Neo-expressionism) of Georg Baselitz, Markus Lüpertz, A. R. Penck, Bernd Koberling or Karl Horst Hödicke.
The artists achieved to connect with the accomplishments of Expressionism on a formal level, as the term "Neo-expressionism" clearly shows, even though they did not attempt to revive this epoch. Unlike expressionist art, Neo-expressionism also rejected utopias and ideas regarding a better world and thus turned out to be a product of Postmodernism".
In terms of styles, Neo-expressionism was quite heterogeneous, common features were a liberal concreteness as well as a pictorial spontaneousness and a gestural, impulsive flow. Additionally, neo-expressionist works are characterized by an emotionally charged subjectiveness through which the sometimes provocative iconography attains an individual complexity. Neo-expressionism also takes on styles and motifs from previous epochs by means of ironic and insouciant pictorial citations.
Neo-expressionism appeared on an international stage for the first time around 1980, its main representatives were the "Neue Wilde" (New Wild Ones) in Berlin (Rainer Fetting, Helmut Middendorf, Salomé, Bernd Zimmer et al), the Cologne artists of the "Mülheimer Freiheit" (Hans Peter Adamski, Peter Bömmels, Walter Dahn, Jiri Georg Dokoupil, Gerard Kever, Gerhard Naschberger et al), the Italian "Transavanguardia" (Sandro Chia, Francesco Clemente, Enzo Cucchi, Mimmo Paladino u.a.), the North American "New Image Painting" (Susan Rothenberg, David Salle, Julian Schnabel et al) and the French "Figuration Libre" (Robert Combas, Hervé Di Rosa, Gérard Garouste, François Rouan et al). Neo-expressionist artists in Austria were, among others, Siegfried Anzinger, Erwin Bohatsch, Josef Kern, Alois Mosbacher, Hubert Schmalix and Otto Zitko. Art in the GDR (Walter Libuda, Wolfgang Smy u.a.) did not remain unaffected by Neo-expressionism either.
Outside of those centers, many young artist all over the world were working in the style of Neo-expressionism in the 1980s, which can be regarded as the most important tendency of the postmodern 20th century.
+
Sold lots Top 100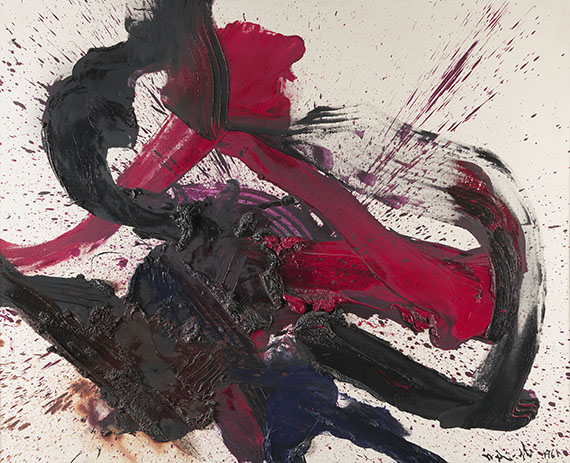 Kazuo Shiraga