Dictionary

Neo-Baroque

Similar to other "Neo-styles", Neo-Baroque, which took over from Neo-Renaissance in the second half of the 19th century, had its most obvious occurrence in architecture. Especially places and regions that had had a very rich tradition of Baroque architecture, such as Germany, Austria, Hungary and Bohemia, were most susceptible to Neo-Baroque. German builders made the style popular in Russia, mostly in Saint Petersburg, where it was employed for stately magnificent buildings. The Paris opera house, built by Charles Garnier from 1861 to 1875, is the main work of French Neo-Baroque architecture. The basic architectural form is borrowed from Baroque castle and church architecture, allowing a very pragmatic arrangement of room. Other features are exuberant and splendid decorations, as well as bulky pillars and cupolas, which serve both a representative function and pathos. In Germany such elements can be found on the Berlin Reichstag building (1884-94) and on the Justizpalast in Munich (1891-97).
The most important sculptor in those days was Reinhold Begas (1831-1911). He is regarded as the main representative of the Berlin school of sculpting with his monumental, plastic and eloquent works, their picture language reminding one of Michelangelo, Bernini and other Roman Baroque sculptors. Among his most prominent works are the Neptunbrunnen (Neptune Fountain 1886-91), which was originally located in front of the Berlin castle, and the Bismarck monument (1897-1901).
Unlike other "neo-styles", Neo-Baroque was popular all the way into the 20th century, both preparing for and amending the upcoming Art Nouveau.
+
Sold lots Top 100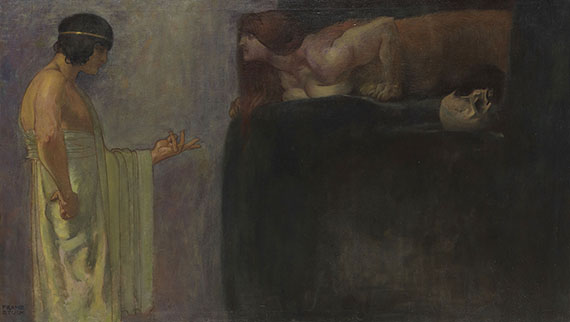 Franz von Stuck