Dictionary

Nazarenes

The Nazarenes (also called "Lukasbund"), were an artist group within the epoch of Romanticism, however, distinguishing itself in terms of topography, style and motif.
It was the rejection of classicist art and the dated teaching methods at the Vienna Academy that caused six students, Friedrich Overbeck, Franz Pforr, Johann Konrad Hottinger, Joseph Sutter, Ludwig Vogel and Joseph Wintergerst to affiliate in 1808. They founded the "Lukasbund" in July 1809 and turned away from the academy. They went to Rome in 1810, where they lived and worked together in the monastery Sant'Isidoro. Their Christian belief was reflected in this way of life, to find inspiration in Catholicism, which is why they mostly turned to religious subjects. Due to their outer appearance, clothes and headdress being redolent of Jesus and his disciples, they were nicknamed "Nazareni", which then became the most commonly used name.
Friedrich Overbeck and Franz Pforr were the movements main representatives. Numerous artists were quite close to the Nazarenes, among them the brothers Ferdinand and Friedrich Olivier, Joseph Anton Koch, Julius Schnorr von Carolsfeld, Johann Evangelist Scheffer von Leonhardshoff and Carl Philipp Fohr. Philipp Veit, Wilhelm von Schadow and Peter von Cornelius were also working in Rome.
Old art, mainly works by Albrecht Dürer and Raffael, shaped the Nazarene style. The exact and sharp contouring trace back to Raffael. Line and drawing were given great importance, the pastel colors were chosen according to their symbolic meaning, in order to convey emotions and atmosphere. Besides religious scenes, their pictures included figures dressed in an old German style, their delicately drawn faces devout and lost in thought.
A main work of the Nazarene movement is Friedrich Overbeck's "Italia und Germania" (1828): Maria and Sulamith, in perfect harmony in the picture, personify the old German and the Italian ethos.
Nazarene art had its main influence in Düsseldorf, Berlin and Munich, as it was Peter von Cornelius who propagated the style in these cities.
+
Sold lots Top 100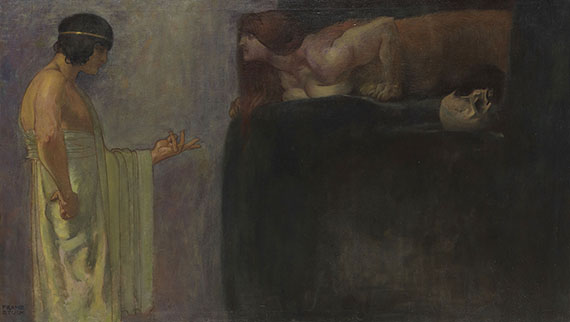 Franz von Stuck