Dictionary

Munich Art Nouveau

Munich was the important center for Art Nouveau in Germany. The city's good economic situation towards the end of the 19th century and the policies regarding art that the prince regent Luitpold enforced, were beneficiary for a development of brisk activities in architecture and had a certain upward trend in art as a consequence. However, the character of this art was rather eclectic and down to earth, a conservative Historicism was predominant, the portraits by the city's then most important painter Franz von Lenbach (1836-1904) and a villa by Gabriel von Seidl are proof thereof.
A group of young artists turned against this situation in the late 19th century. Their organ was the magazine that would give the new movement its name, "Jugend". They developed a kind of art that was characterized by its stylized and plane treatment of nature. Popular motifs were taken from botany and the aquatic world, an increasing abstraction can also be observed with those works. The independence of the line, which gradually attained an autonomous importance, lead to fantastic arabesques, such as in "Peitschenhieb" (Whiplash, 1895) by Hermann Obrist (1863-1927) or the abstract ornament on the facade of the photo studio "Elvira" (1896) by August Endell (1871-1925). With these works the Munich Art Nouveau artists did not reject nature, but tried to follow its laws of creation in their own process of artistic creation.
Many of the Munich Art Nouveau representatives such as Obrist, Endell, Otto Eckmann, Richard Riemerschmid, Bernhard Pankok and Bruno Paul left the city after a few years, as the down-to-earth atmosphere in Bavaria was not suitable for avant-garde and radical innovations in art. However, conservative and new art made for a certain exciting contrast in Munich, which was especially expressed by the Munich Secession around Franz von Stuck (1863-1928).
+
Sold lots Top 100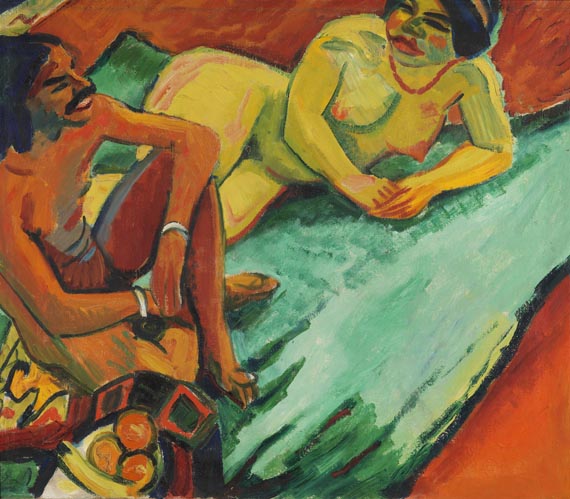 Hermann Max Pechstein