Dictionary

Modernismo in Spanien

Spain's artistic center around 1900 was in Catalonia, respectively in its capital Barcelona. The "Modernismo", Spanish Art Nouveau, also called "Modernisme" in Catalan, was in full swing as of 1875. Other names such as "Arte Joven" are less commonly used. The boom in both cultural and intellectual life took place in connection with the region's excellent economic situation in those days. A flourishing metal- and textile industry made for a booming growth that Spain had never experienced before. It happened in this context that the resistance against the power of Castile, which had been lasting for centuries, would become even stronger. The exclusive usage of the own language Catalan emphasized this national self awareness.
The art from this epoch was shaped by both the economic boom as well as by the nationalist tendencies of Catalan culture. First and foremost, the new architecture is worthwhile mentioning, especially the works of Antoni Gaudí (1852-1926). Like some other Catalan artists, Gaudí also belonged to the "Cercle Artístic de Sant Lluc", founded in 1893. This artists' circle had a critical attitude towards the Bourgeoise as well as the Bohème. The rural ideals of the members of "Cercle Artístic de Sant Lluc" are strongly characterized by a Catholic mysticism, that rejected both Materialism as well as Aestheticism. These ideals are reflected by the buildings of Gaudí, as they are a mixture of Gothic, Moorish and Byzantine elements. The result is a fascinating, irrational and fantastic world of images, that can be found in palaces, villas and parks, as well as in his main achievement the church "La Sagrada Familia".
Highlights of "Modernismo" can also be found in painting, however, the works greatly differ in terms of style and subjects. The civil scenes of Ramón Casas (1866-1932) as well as the cosmopolitan works of Santiago Rusiñol (1861-1931) and Hermen Anglada Camarasa (1871-1959) count among "Modernismo" paintings. But it is most of all the paintings of Anglada Camarasas that show a clear proximity to French "Art Nouveau" and its sense for a flowing line and a composition based on color fields. Following the French model, most artists and writers met in the Barcelona café "Els Quatre Gats", which became the movement's intellectual center. Among them was also the young Pablo Picasso, whose early works can also be assigned to Art Nouveau.
"Modernismo" began to gradually break up as of 1905. Other important artist from this epoch were Lluís Doménech i Montaner, Josep Puig i Cadafalch, Josep Maria Jujol, Cèsar Martinell, Isidre Nonell, Ramón Pichot, Ricard Canals, Ricard Opisso, Carles Casagemas and Joachim Mir.
+
Sold lots top 100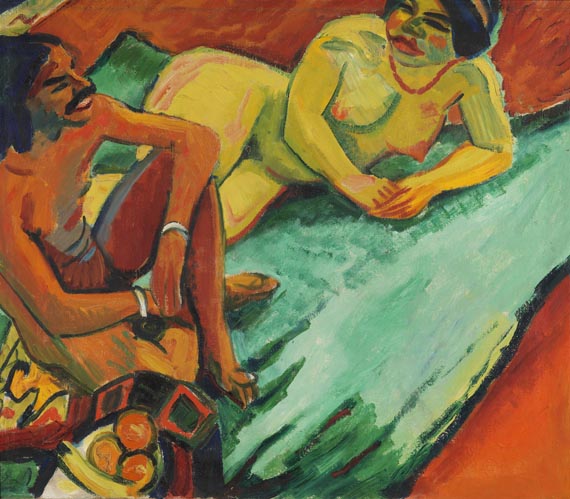 Hermann Max Pechstein