Dictionary

Frauenchiemsee Artist Colony

King Ludwig I. had ennobled Munich to a city of arts, which is why numerous painters had found their ways to Munich throughout the 19th century, some of them went out to explore the city's surroundings. This objective led the landscape painter Maximilian Haushofer (1811-66) to the Fraueninsel in the Chiemsee in 1828, which used to be called Frauenwörth in earlier days. Having returned to Munich he spread the word about this beautiful and pristine place, the first artists travelled to the island in 1829, which marked the birth of the artists' colony.
Christian Christoph Ruben (1805-75) joined them in 1834, along with Max Haushofer, who had meanwhile become his brother in law, together they spent every summer on the island of Frauenwörth. In the following, numerous artists gathered around Max Haushofer and Christian Christoph Ruben, among the most famous count Arthur Georg Freiherr von Ramberg, Ferdinand Barth, Josef Friedrich Lentner, Ludwig von Löfftz, Gustav Paul Cloß, Carl Adolf Mende and Franz von Seitz. The painters of the colony Frauenchiemsee considered themselves "Pleinairists" and thus turned intensively to en plein air painting, capturing the island's unique light ambience in their paintings.
The colony on Frauenwörth had soon become well-known throughout the international art scene, attracting both European and even American artists. Among the visitors of the colony were many well reputed names, such as Hans von Marées and Ferdinand von Miller.
The colony's second height began as of the 1870s. Protagonists were Karl Raupp (aka "Chiemsee-Raupp") and Joseph Wopfner, who had both studied under Karl von Piloty. Especially Karl Raupp, who had endued his Chiemsee scenes with a theatric pathos. The Chiemsee colony lost in importance as of 1920, even though Fritz Sckell made sure that the strong company among the artists would last on.

+
Sold lots top 100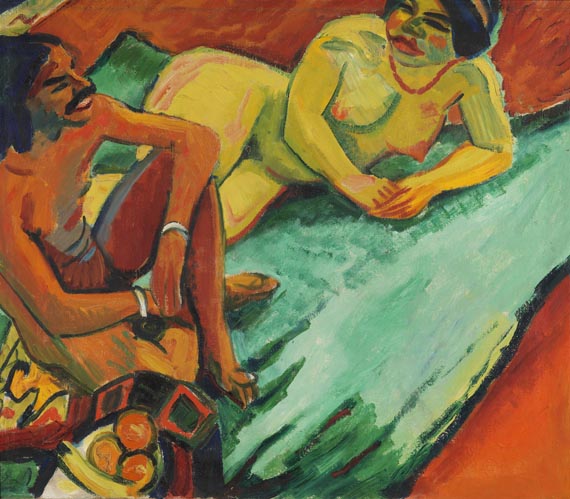 Hermann Max Pechstein