Dictionary

Art Nouveau

Art Nouveau can be regarded as a reaction to Historicism, which dominated most of the 19th century and also as a direct precursor of the modern avant-garde. Its heyday took place around 1900, even though it had its origins in the English Arts-and-Crafts movement in the 1880s. Despite its international orientation, Art Nouveau was coined by many national particularities, as the variety of its country-specific descriptions clearly shows: "Jugendstil" in the German language region, "Art Nouveau" in France, "Modern Style" in England, "Liberty" in Italy and "Modernismo" in Spain. Many artists had been shaped by Symbolism as far as their choice of topics was concerned, however, they were applying a modern use of forms. Additionally, it would not have been for many avant-garde movements such as Expressionism without Art Nouveau.
The connection between art and life is an important key term when it comes to the movement's basic characteristics, which basically means that the ultimate ambition was to make everyday life more esthetic by means of reforming arts and crafts. Art Nouveau asked for a revival of traditional medieval handcrafts as well as a use of forms that is supposed to be inspired by nature, as a reaction to the supposedly anachronistic Historicism, industrialization and mass production. All established art genres - painting, sculpture and architecture - were affected by this new thinking, as art was perceived as a way of (post-) experiencing, in line with the primacy of the empathy theory. Accordingly, every work of art had an intimate relationship with its observer on the basis of the observer's life.
A suitable means of expression was found in ornaments, playful and organic forms are dominating forms that do not imitate nature the way it occurs, but its laws of creation that should inspire the artist's imaginative powers.
Among Art Nouveau's most important artists count William Morris, Aubrey Beardsley, Alfons Maria Mucha, Victor Horta, Henry van de Velde, Hermann Obrist, August Endell, Richard Riemerschmid, Bernhard Pankok, Joseph Maria Olbrich and Antoni Gaudí.

+
Sold lots for Secessionism Top 100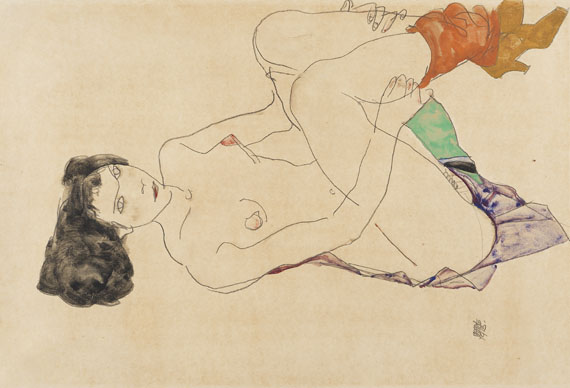 Egon Schiele