Dictionary

Japonism

In the quest for new formal means of expression in design, many artists turned their attention to Japan in the late 19th and early 20th century. The reception of East Asian art in Europe, such as the "Chinoiserie" in the 18th century, had been dominated by incomprehension and, most of all, lack of knowledge. After Japan had opened its market in 1855, the situation began to change and Europeans encountered Japanese art and goods in the world exhibitions. First places with an increased interest in Japan were London and particularly Paris, where some 40 stores that had specialized in Asiatica were in existence in 1886, in addition to the articles offered by large department stores.
Besides the depiction of Japanese objects, which can be described as Exoticism, in portraits and other compositions, the avant-guard's enthusiasm for Japan finds expression in their application of formal features and in the fascination for an idealized image of Japan, an image that had been taken from the Japanese works and was intended as a counterpart to the industrialized world. The impressionists were the first to examine this intention systematically. The most relevant impulses were given by Japanese woodcuts in colors (Ukiyo-e): objects trimmed by the frame, asymmetric compositions, abandoning the center panel and the bird's eye view, just to mention a few. Vincent van Gogh counted among the most industrious Japan enthusiasts, who even made oil copies of Japanese woodcuts. Besides the compositional means that have been mentioned, the shadeless use of colors and the dynamic stroke of the brush were of a special importance to him.
Art Nouveau would not have developed as it did, if it had not been for the Japanese influence, especially with regards to the free movement of the ornamental line and the two-dimensional representation. Arts and crafts also experienced innovative impulses in this context. In the period of Expressionism enthusiasm for Japan somewhat ceased in favor of Primitivism. However, artists such as Kandinsky or Egon Schiele continued their close examination thereof. Schiele, for instance, obtained important compositional strategies from Japanese art, such as the revaluation of empty space or the grid-like composition.
Other important artists that had strongly been influenced by Japan were James Abbot McNeill Whistler, Gustav Klimt and Alfred Kubin.
+
Sold lots Top 100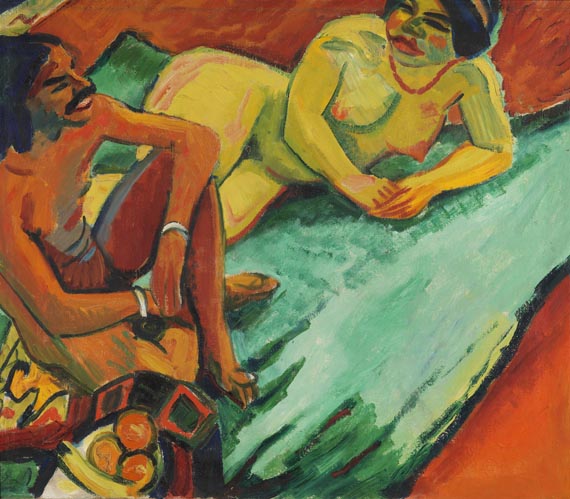 Hermann Max Pechstein