Dictionary

Italian Realism

Italian Realism could only develop under the influence of French innovations, however, it attained a versatile and independent appearance. It had its beginnings in Tuscany, where Purism had laid the basis for the development (Antonio Puccinelli).
Florence was the cradle of Italian Realism, especially the Macchiaioli, an anti-academic group of Florentine painters, active between 1860 and 1880, united by a spotted and sketchy style (Italian macchia: spot), together they revolutionized landscape painting and initiated Realism in Italy. Just like the French realists, the Italian Macchiaioli wanted to paint what could be observed in reality: "il vero" (the real).
The art critic Diego Martinelli contributed a great deal to the group's programatic unification; in addition, the group of the Macchiaioli was in close contact with France: Shortly after the middle of the century, artists such as Telemaco Signorini (1835-1901) went to Paris, Giovanni Boldini and Giuseppe de Nittis even made the French capital their permanent place of residence.
The Italian painter's interest in French Realism was strong and was especially focussed on its social aspect, this focus finds expression in Telemaco Signorini's much-praised painting of "Irrenabteilung in S. Bonifazius in Florenz" (Lunatic Asylum in St. Boniface in Florence, around 1865-70), which was especially admired by Edgar Degas. In terms of topics, the Italian realists, just as the French, favored rural landscapes; Giovanni Fattori (1825-1908) made pictures of the everyday lifes of soldiers his mark.
Besides those that have been mentioned, other members of the Macchiaioli were Serafino de Tivoli, Giovanni (Nino) Costa, Adriano Cecioni and Giuseppe Abbati; two of the most important Macchiaioli, Giovanni Fattori and Silvestro Lega, joined the group later.
But it is not only the Macchiaioli that have to be regarded in the light of Italian Realism, other artists, such as Giovanni Segantini (1858-99), who examined Millet and intensified the symbolic content of the motif of the wheat harvester; Giuseppe Pellizza da Volpedo (1868-1907) created the monumental work "Der vierte Stand" (the Fourth Class) around the turn of the century, a painting that reminded of Socialist Realism with its deeply felt pathos.
+
Sold lots for Realism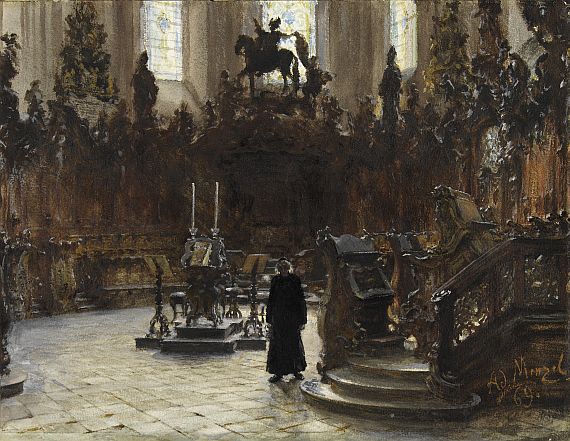 Adolph von Menzel