Dictionary

Italian Classicism

Classicism had its origins in Rome, where both artists and theoreticians had the idealized ancient world right in front of them. The two Germans Johann Joachim Winckelmann (1717-68) and Anton Raphael Mengs (1728-79) had a major impact on its development in Italy. The first, who had been appointed supervisor of Rome's ancient monuments, laid the theoretic fundament ("Gedanken über die Nachahmung der Griechischen Werke in der Malerei and Bildhauer-Kunst", 1755 and "Geschichte der Kunst des Altertums", 1764). His teachings, for instance the contour line serving as the medium of an idea, shaped Classicism's stylistic formation. Mengs was the first to realize Winckelmann's postulations with the ceiling "Parnass" (1761), executed as a "quadro riportato", in the Roman Villa Albani, making it Classicism's actual founding work.
However, locals also had their share in the formation of Italian Classicism. Late Baroque architecture (Juvarra, Vittone et al); the graphic artist Piranesi (1756: "Le Antichità Romana" et al) had a major impact on the classical antiquity's reception and documentation with his engravings of ancient ruins. Michelangelo Pergolesi, whose engravings had a focus on the ancient world, was working in London, where he co-operated with, among others, Robert Adam.
Besides using models from the classical era and Renaissance, the paintings were also inspired by French Classicism. Andrea Appiani (1754-1817) from Milan, who was also called "Pittor delle Grazie" (painter of graces) because of his art's special gracefulness, was Napoleon's first Italian court painter. Vincenzo Camuccini (1771-1844), who was working in Rome, was Italy's most important classicist painter and successor of Mengs; Pietro Benvenuti (1769-1844) is regarded the main representative from Tuscany.
Antonio Canova (1757-1822) was the leading classicist sculptor, his works idealizing the classical era. Integrating Egyptian motifs (pyramids), for instance in the tomb of archduchess Maria Christina in St. Augustine's church in Vienna (1798-1805), his works shaped tomb art.
+
Sold lots for Classicism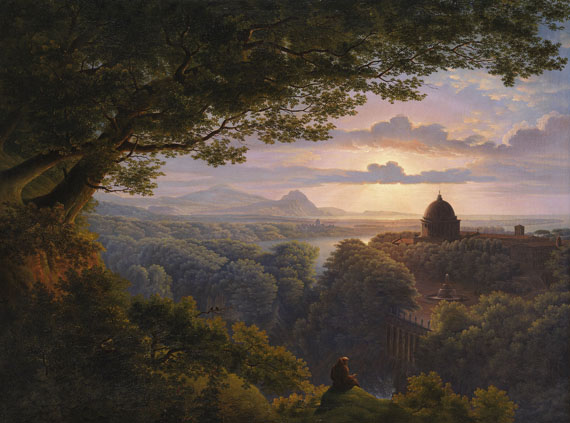 Karl Friedrich Schinkel