Dictionary

Individual Mythologies

The concept of "Individual Mythologies" was conceived by the Swiss curator Harald Szeeman (1933-2005). Although Szeeman initially used the term in the 1960s in the context of the Étienne Martin exhibition at the Kunsthalle Bern, it was first used to describe an artistic phenomenon in 1972.
A milestone here was the "documenta 5" in Kassel. Szeeman was general secretary of the exhibition and responsible for selecting the artists. He unified diverse artistic positions on the subject of "Questioning Reality", under the general banner of "individual mythologies". Artists included Joseph Beuys, Christian Boltanski, James Lee Byars, Jean Le Gac and Paul Thek.
The apparent heterogeneousness of the works, which excluded the possibility of categorisation, referred to both the problematic assignation of individual mythologies and their openly defined borders. Nevertheless, the artworks did possess some unifying factors, which could be attributed to individual mythologies. These included the subjective, intensive expression of personal identity, which was given a strong psychological dimension, in order to emphasise the individually experienced.
In this context, the artists strived to project unconscious ideas outwards, giving them a visually palpable form.
As mysticism, rites, and dreams, frequently informed the ideas conveyed by the art works, their visual signs, symbols and individual visual worlds were frequently mysterious and impossible to fully unlock. It is thus unsurprising that art works belonging to this genre were regarded as unlike rational and conceptual artistic art forms. The diverse mediums used to convey individual mythologies, included the environment, installation or documentary collecting, which is why "collection of evidence" can be placed in this category.
+
Sold lots Top 100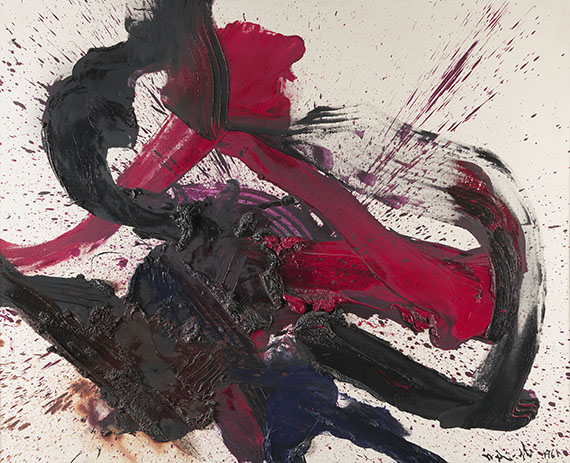 Kazuo Shiraga