Dictionary

German Impressionism

French Impressionism also had an impact in German-speaking countries. In Prussia, the Realist draughtsman, graphic artist and painter, Adolph Menzel (1815-1905) developed his own "impressionistic ideas", as exemplified in his early works, such as the famous "Balcony Room" (1845). Menzel's oeuvre was praised by French Impressionists in Paris. Like Carl Blechen (1798-1840) and the Realist painters Wilhelm Leibl (1844-1900) and Hans Thoma (1839-1924), Menzel had a decisive role in influencing German Impressionism.
Impressionism developed in German speaking countries from the 1880s/90s, until the 20th century. It lost its influence post-World War One. Stylistically, German Impressionism was frequently characterised by a more intense retention of graphic elements and a rather darker palate than its French counterpart. In its early stages, it remained close to Realism and Naturalism, and later became more diverse, after adopting elements of other concurrent styles.
Gotthardt Kuehl (1850-1913) took French Impressionism from Paris to Dresden, where it was adopted and propagated by Robert Sterl (1867-1932). Key German Impressionists, active in and shortly after 1900 included Max Liebermann (1847-1935), Lovis Corinth (1858-1925), Max Slevogt (1868-1932) and Lesser Ury (1861-1931). The spread of Impressionism in Berlin was partly also a rejection of Wilhelmenian cultural politics and anti-French conservative painting.
Impressionism spread throughout the German speaking countries, as part of Secessionist movement, and later contained elements of Postimpressionism, Jugendstil and Symbolism. The resulting German form of Impressionism was partially carried over into Expressionism, as exemplified in the work of Lovis Corinth. The Austrian painter Anton Romako (1832-89) trod a similar artistic path, as did his fellow countryman Oskar Kokoschka, although the latter's oeuvre was more Expressionist
Other key exponents of Impressionism in German speaking countries included Wilhelm Trübner, Fritz von Uhde, Carl Schuch, Paul Baum, Leo Putz, Christian Rohlfs, Tina Blau-Lang (Tina Blau) and Frank Buchser.
+
Sold lots for Impressionism Top 100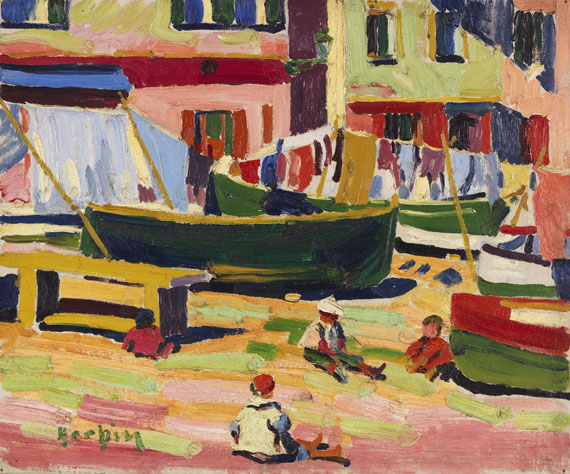 Auguste Herbin