Dictionary

High Baroque in France

French Baroque art unified rationalism and classicisme. In the early 17th century, French architecture was influenced by a strict baroque classicism, as demonstrated in Louis Le Vau's chateaux, which gained international acclaim in the mid-1600s. French high baroque painting aimed at achieving a peaceful harmony, and unlike da Cortona's total works of art, remained independent of architecture. French high baroque art blossomed just prior to the mid-1600s, inspired by Caravaggism and the Bologna School. The undoubted master of French high baroque painting was Nicolas Poussin (1594-1665). He was inspired by Raphael and the art of antiquity, and produced a highly intellectual baroque classicist art, which was more about spiritual pleasure, than representational or aesthetic pleasure. His heroic, idealised landscapes, which incorporated mainly mythological or religious scenes, with an emphasis on solid blocks of colour, represent some of the period's greatest achievements. Claude Lorrain (actually Claude Gelée, 1600-82) produced a different kind of romantic lyricism within the baroque landscape, which he transfigured with an atmospheric handling of light. Other leading exponents of high baroque art in France include Philipp de Champaigne, (born in Flanders), Pierre Mignard and Hyacinthe Rigaud, who had a profound impact on the development of portrait painting. Charles Le Brun was an important exponent of the courtly high baroque style, Louis-Quatorze.
The key figure in painting of the period was Michel Anguier (1612-86), who studied in Rome, and Bernini, who was called to Rome by Louis XIV. in his capacity as an architect.
+
Sold lots Top 100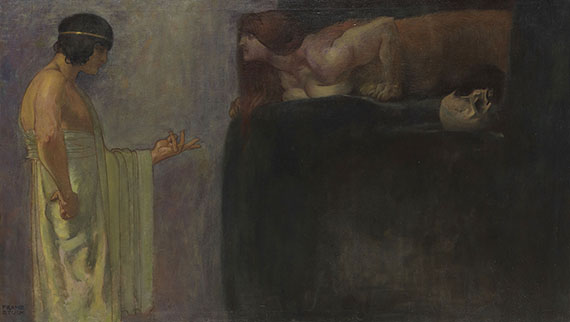 Franz von Stuck