Dictionary

High Baroque in Flanders

17th century art from the Netherlands is regarded one art history's highlights. In 1585, Holland in the northern Netherlands was separated from Flanders in the south. After the northern provinces were freed from Spanish Hapsburg rule, Flanders remained under Spanish control, and the art from the region was fundamentally different to the work produced in bourgeois Holland. The former was solemn, dynamic, and more representative than the latter, and should be seen in the context of the Roman Counter Reformation.
Whilst French Classicisme from the same period placed an emphasis on drawing, Flemish painting of the 17th century focussed on the production of stronger tonal values, and the effects of colour. Peter Paul Rubens enjoyed a similar status to Nicolas Poussin in France, becoming Flanders' leading painter. His success led to the theoretical debate between the Poussinists and the Rubenists at the French Academie, at the end of the 17th century.
Flemish baroque art can be distinguished by its use of the classical French baroque palate and its composition. The works are dynamic, often with a diagonal composition. Flemish baroque painting is also characterised by its strong appropriation and adaptation of Catholic Italian influences, which can be seen in the distribution of light and volume. During his stay in Italy, Rubens studied the work of the Renaissance artists and transformed this into a personal style, which he linked with Dutch tradition. His personal achievement was his particularly skilful handling of flesh tones, which he gave a green base, and from which he created three base colours. His material composition was however, a continuation of pre-existing Dutch traditions. Thematically, Flemish painting was influenced by an Italian Catholic repertoire. Dutch painting was more orientated towards bourgeois tastes, and consisted mainly of genre, still life, and landscape paintings.
The most important master of the portrayal of peasants was, however, Flemish. Adriaen Brouwe, worked in the Northern Provinces, and was also a technically highly skilled painter. Another important painter from the region was the somewhat younger David Teniers. Teniers was, however, unable to achieve a similar immediacy in his works. The Catholic Flemish developed a special form of still life painting: religious motifs framed by flowers or fruit. The three pioneers of Flemish baroque painting, were Peter Paul Rubens (1577-1640), Anthony van Dyck (1599-1641), who worked in darker hues, and created serene compositions, and Jacob Jordaens (1593-1678), whose produced more powerful, large scale works.
+
Sold lots Top 100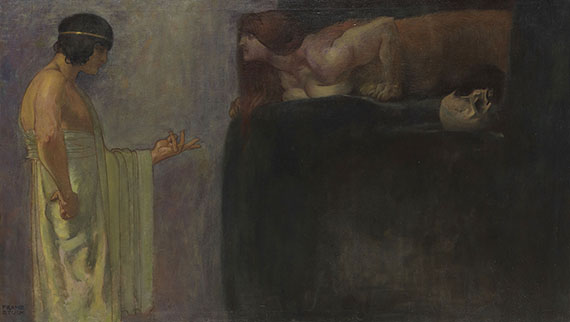 Franz von Stuck