Dictionary

Gustavian Style

The Gustavian style was a form of Scandinavian rococo, named after the Swedish King Gustav III. (Reign 1771-92). It was the Swedish equivalent of Louis-Seize, and can be compared with German late rococo, or Austrian Josephinism. The style also unifies the dynamic, playful rococo forms with classical elements.
Gustavian interior design was characterised by calm symmetry, and decorative wall paintings, executed in bright, clear colours. Gustavian ornament and furniture took its inspiration from France. The curved forms of rococo were gradually replaced by straightened outlines. The style incorporated antique design elements such as fret, and egg and dart. Furniture upholstery was predominantly grey and white.
The most important architect of the Gustavian period was Erik Palmstedt (1741-1803), whose main work was Arvfurstens palats (Palace of the Hereditary Prince) in Stockholm. In the late 18th century, Olof Samuel Tempelman (1745-1816) also constructed buildings in the Gustavian style. French-born Louis Adrien Masreliez's (1748-1810, from 1753 in Stockholm) work (painting, graphics and interior design) represented the transition from rococo to classicism. Sweden's most important sculptor of the era, Johan Tobias Sergel (1740-1814), pioneered a dynamic, early classical style.

+
Sold lots Top 100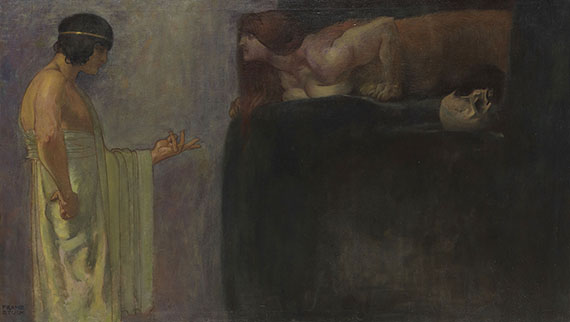 Franz von Stuck