Dictionary

Group Zen 49

The artists' group ZEN 49 was founded in the Galerie Stangl in Munich, in July 1949, and was initially known as the "Gruppe der Gegenstandslosen" (Group of Non-Objectivists). The group's founders were the early Informel artists Willi Baumeister, Rolf Cavael, Gerhard Fietz, Rupprecht Geiger, Willy Hempel, Brigitte Meier-Denninghoff (Matschinsky-Denninghoff following her marriage) and Fritz Winter. Hann Trier and Hubert Berke joined the group shortly afterwards.
The members strove to create new forms of expression for non-objective art, post World War Two. This rejection of materiality was reflected in their choice of name. Zen was a Japanese concept based on Buddhist teachings, linked to concentrated meditation. The name was thought to have been suggested by Rupprecht Geiger (1908), whose work was characterised by this contemplative approach. Geiger's diverse oeuvre, which included painting, graphic works, and art in public spaces, placed an emphasis on the palate, and the colour red in particular, producing works, which the observer could sink into and derive new energy from. The group's founding manifesto articulated its aims to hold exhibitions and introduce the public to abstract art.
The group was supported by the art historian Ludwig Grote and Franz Roh, as well as the art critic John Anthony Thwaite. ZEN 49 was dissolved in 1957, after a number of fruitful years, during which the group held key exhibitions both at home and abroad.
+
Sold lots Top 100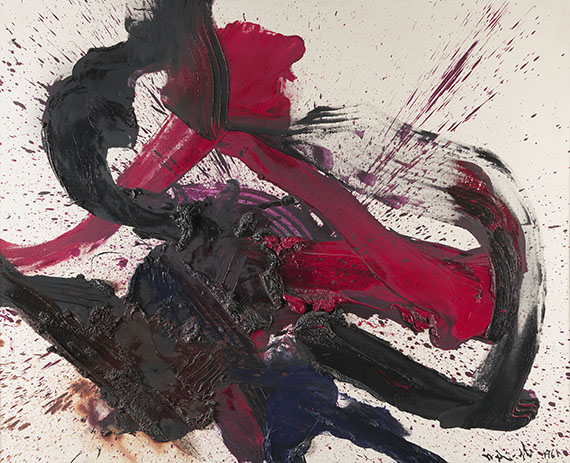 Kazuo Shiraga