Dictionary

Group Northern German Realists

The "North German Realists" formed in the context of annual plein air symposia, which were an occasion for the always newly constituting circle of artists to execute their paintings in front of nature. This meeting took place in 1989 for the first time and was initiated by the painter Nikolaus Störtenbecker (born in 1940), who had already been a founding member of the figurative group "Zebra" in the 1960s.
The "North German Realists" have carried this name since 1995, it was their objective, in accordance with their name, to depict the landscape of their home Schleswig-Holstein, and to capture impressions, particularly of the island of Helgoland and the cities Kiel, Lübeck, Schleswig or Rendsburg. Ships and harbor scenes were among the favorite subjects of the "North German Realists", impressions of nature and city views, as well as portraits complete their spectrum.
Their artistic heritage is in 19th century Realism and Pleinairism and is closely linked with the names of Gustave Courbet or the School of Barbizon. A striking characteristic feature of the "North German Realists" is their figurative image conception that follows their realistic tendencies.
The paintings of the "North German Realists" are also characterized by bold, at times expressive gestures and a pastose color application, that emphasizes the atmosphere of both landscape and figures. The graphic sheets, which are particularly realistic and sharply observed, are also worthwhile mentioning. At first, only painters were part of the "North German Realists", but the group would soon open itself for sculptors. Their art preferred the topic of the human body in nudes and portraits; bronze and terracotta were the preferred materials.
Among the group's members were, besides Nikolaus Störtenbecker, Friedel Anderson, Brigitta Borchert, Tobias Duwe, Frauke Gloyer, Erhard Göttlicher, Christian Höpfner, André Krigar, Lars Möller, Martin Nill, Ulf Petermann, Ellen Sturm and Christoph Thiele.
+
Sold lots top 100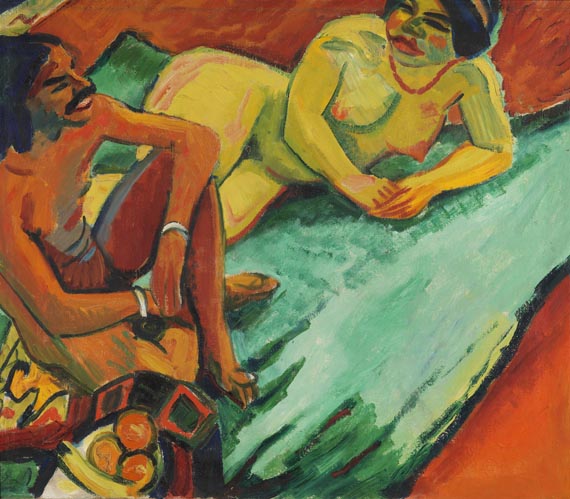 Hermann Max Pechstein