Dictionary

Group 'The Wanderer' (Die Wanderer)

The "Cooperation for Touring Exhibition", or shortly called "The Wanderer" (Peredvizhniki), made decisive contributions to the spread of Russian Realism. The association of realist painters was founded in 1870, its precursor was the artel of artists from 1863, which had initiated the "Revolt of Fourteen" at the St. Petersburg Academy. Founding members of the Wanderer (Peredvizhniki) were the painters Ivan Kramskoi, Nikolai Ge, Grigoriy Myasoyedov and Vasily Perov, whose common intention was to introduce the democratic and socially critical art of Russian Realism to a broader public.
48 touring exhibitions of the Russian realists contributed to the spread of the new style from city to city, and made for its consolidation, but it also contributed to society's overall taste in art. A certain political influence can also be ascribed to the Wanderers (Peredvizhniki), as their ideas were closely linked with those of the Russian folkloristic movement.
The younger artists joined forces with the older generation of Russian realists, some of them had been active since the 1860s, in the association. The most relevant works were made between 1870 and 1881: often monumental paintings showing Russian folk scenes, but also scenes from national history, naturalistic portraits and landscapes. In comparison with the earlier paintings by Russian realists from the 1860s, the paintings by the Wanderers (Peredvizhniki) are characterized by a greater energy and epic, in terms of style, notions of French Impressionism begin to unfold.
Main representatives of the Wanderers (Peredvizhniki) are, besides the founding members, Ilya Repin (1844-1930), Illarion Pryanishnikov, Alexei Savrasov, Vasily Polenov, Ivan Shishkin, Arkhip Kuindzhi and others.
Disagreements between group members began as of the 1880s, however, the organization endured until 1923.

+
Sold lots Top 100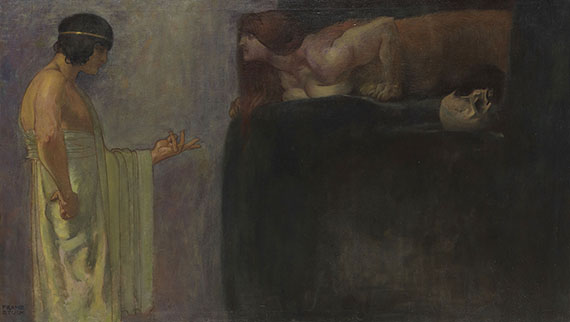 Franz von Stuck