Dictionary

Group Devetsil

The "Devetsil" formed as an own and quite influential group within the Czechoslovakian vanguard movement of Poetism, it was officially founded on 5 October 1920 under the name "Umeleckı svaz Devetsil" (Artists' Association Devetsil). "Devetsil" is the Czech term for two plants from the family of coughwort, the butterbur and the common coughwort, however, the actual meaning of the group's name remains obscure. The group's roots can be traced back to the Bohemian vanguard around 1900. Among its founding members, which comprised visual artists, designers, film makers and lyricists, were the painter and drawer Adolf Hoffmeister, the writers Jaroslav Seifert and Vladislav Vancura as well as the art critic and theoretician Karel Teige, who would become the group's leader.
At first there is no uniform program, but as of 1922 the first manifesto would determine the direction that was obliged to a collective idea of "New Proletarian Art". This new form of art should be trend-setting and be part of a development towards a better society. The "Devetsil" endured until 1931.
The artistic position of the "Devetsil", in the context of the vanguard movement before and after the first world war is strongly depending on Italian Futurism, Dadaism and - mostly in terms of paintings - on Cubism. Worthwhile mentioning is the comprehensive graphic work of Adolf Hoffmeister (1902-73), which comprised drawings, book illustrations and collages, other influential forces were André Derain, Pablo Picasso and Georges Braque, as well as Henri Rousseau's naive art.
+
Sold lots Top 100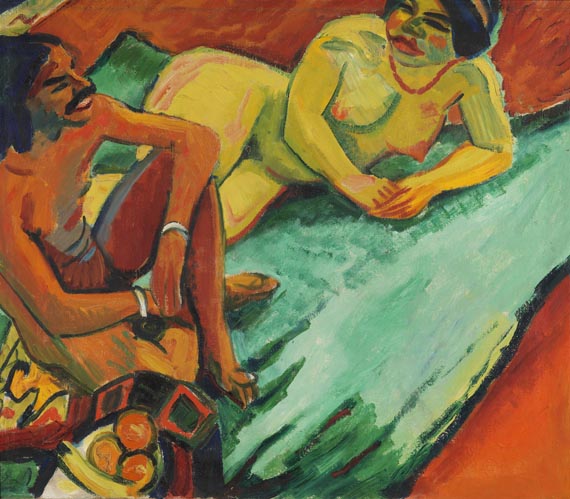 Hermann Max Pechstein