Dictionary

Grötzing Art Colony

The origins of the Grötzingen artists' colony is closely connected with the village's proximity to the city of Karlsruhe, where Johann Wilhelm Schirmer, a highly reknown landscape painter, was director of the art school. In 1880 Gustav Schönleber, who familiarized Karlsruhe with en plain air painting, was called to this post. Following the ideas of Barbizon, student of Gustav Schönleber went outside to execute their paintings in front of nature - Grötzingen was close and was soon highly frequented.
Friedrich Kallmorgen (1856-1924), a student of Schönleber-Schüler and strongly influenced by him, was the first who settled in Grötzingen during the summer months: He moved into a summer house in Grötzingen with his wife, the flower painter Margarethe Hormuth-Kallmorgen, thus the foundation for the artists' colony had been laid. Friedrich Kallmorgen soon integrated the rural environs into his works, besides genre scenes he also made easy plein air landscapes with figures.
Other artists would soon join him in Grötzingen and resided in the castle of the former margrave, the Augustenburg. Elisabeth and Jenny Nottebohm were the first, followed by Gustav Kampmann (1859-1917), who should later find his way to a rather abstract cocept of landscape. The animal painter Otto Fikentscher relocated to Grötzingen and married Jenny Nottebohm. Just as Franz Hein, who became famous for his fairy tale paintings, and the lithographer Carl Langhein, who lived in Grötzingen for a brief time, and teh artists Hermann Osthoff and Eduard Euler, they all counted among the Grötzingen artists. Karl Biese was the last to declare the Augustenburg his place of residence in 1899. Numerous students, especially females, inhabited the painters' villages during the summer months and provided the artists with considerable additional earnings.
All Grötzingen artists originally came from the Karlsruher Kunstschule and had been acquainted with each other since their study days, so that it can be assumed that the colony's origin lies in these personal relationships. Additionally, the conditions found there were quite favorable for the development of an artists' colony: A castle without residents, Grötzingen's proximity to Karlsruhe and its convenient railroad connection, which also guaranteed that the Grötzingen artists would stay in close connection with Karlsruhe, for instance Friedrich Kallmorgen, Otto Fikentscher, Gustav Kampmann, Franz Hein and Karl Biese, who were founding members of the "Künstlerbund" (Artists' Federation) in 1896.
Artists gradually began moving out of Grötzingen as of 1902, and in 1905 the days of the colony seemed to be over. Afterwards, only few artists sporadically went to the village near Karlsruhe.
+
Sold lots Top 100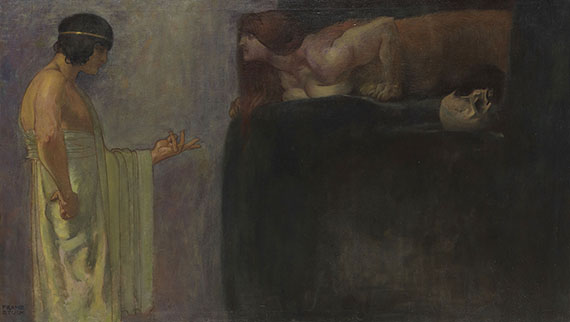 Franz von Stuck