Dictionary

Goppeln Landcscape School

The artists' colony in Goppeln near Dresden endured for a short time only, the school is also often referred to as the "Goppeln Landscape School".
This phenomenon was decisively formed by Carl Bantzer (1857-1941), who had already had some influence in the development of the Willingshausen colony. He was acccompanied by Wilhelm Georg Ritter (1850-1926), Paul Baum (1859-1932) and Robert Sterl (1867-1932). These young and modern artists, who were representatives of French-based realistic en plein air paintings and turned against the academic approach to art that was prevailing in Dresden, presumably visited Goppeln around 1890 for the first time. Further painters would soon follow, they were also seeking to overcome the rigid academic teachings of art in nature, among them were Georg Lührig, Walter Besig, Max Pietschmann, Georg Müller-Breslau, Wilhelm Claudius, Karl Mediz, Emilie Mediz-Pelikan and numerous others. Sascha Schneider, Hans Unger and Richard Müller joined the colony a little later.
The group of Goppeln landscape painters was closely linked with the Dresden Seccession, founded in 1893 with Carl Bantzer as president. The Goppeln artists made for the actual center of activities within the Dresden Secession, as their first exhibition in "Lichtenbergs Kunstsalon" (Lichtenberg's Art Salon) would make more than clear: Most of all, it " was atmospheric landscapes (...) of the charming Goppeln region", as a exhibition review stated in the magazine "Die Kunst für Alle" (Art for Everyone, p. 108) in 1894/95, that were shown in this Secession exhibition.
However, the era of the Goppeln School would not endure forever: Carl Bantzer was called to the Dresden Academy in 1896 - which marked the beginning of the end of Secession's anti-academic approach and the landscape school. The Dresden Secession was suspended in 1900/1901 and the Goppeln colony would not even be mentioned ever after, its members turned to other subjects and topics.
Some Goppeln artists. However, remained true to landscape painting: Georg Müller-Breslau, Walter Besig and Otto Fischer made numerous views of Krkonoše (Giant Mountains), Otto Altenkirch depicted the Heller, a landscape near Dreseden, Erich Buchwald-Zinnwald turned his attention to the Erzgebirge (Ore Mountains). Robert Sterl turned out to be the greatest representative of Dresden Impressionism.
But it did not take long after the first generation of artists had left Gopplen that the place would again attract artists, now they were all from a younger generation: Max Pechstein (1881-1955), who had been to Goppeln as early as in 1902, and Ernst Ludwig Kirchner (1880-1938) executed numerous feather drawings and prints in the small town near Dresden in 1907. Early Expressionism was shaped in direct contact with nature in Goppeln, just as it was the case with Paula Modersohn-Becker in Worpswede or Adolf Hölzel in "Neu-Dachau" (New Dachau).
+
Sold lots top 100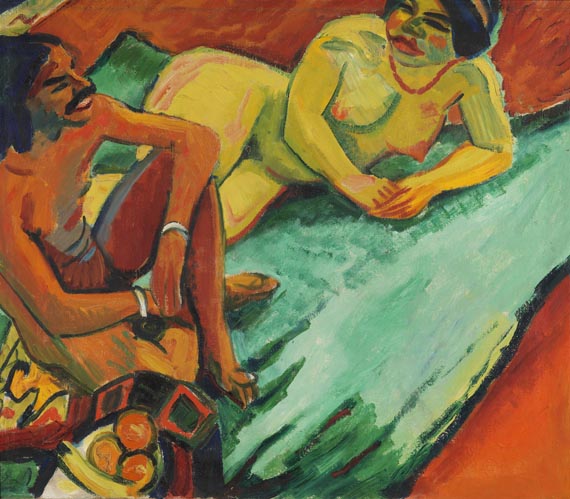 Hermann Max Pechstein