Dictionary

Golubaja Roza

"Golubaya Roza" (English: blue rose) is the name of a group of symbolist painters that were active in Moscow between 1904 and 1908. Their work is characterized by the combination of Symbolism and both fauvist and primitive elements and integrates into European avant-garde. The name was taken from a Moscow exhibition from 1907. Blue is the preferred color of all symbolist artists, as it is always associated with spirituality. The rose, evoking magic and playfulassociations, originates from their first exhibition "Alaya Roza" (English: crimson rose) and references the group's preference for flower symbols. The exhibition was decorated with hyacinths, lilies and daffodils.
Models for the artists of "Golubaya Roza" were the great symbolist painters Mikhail A. Vrubel and Viktor Borisov-Musatov. They all shared a common philosophy and idea of art, they were inspired by the symbolist poets Andrey Bely and Aleksandr Blok. Just like all other symbolists, the members of "Golubaya Roza" also strongly believed that art should transcend reality into an otherworldly sphere. Style and imagery are subordinate to this objective. Becoming was a preferred topic, of which the numerous depictions of pregnancy and floating water are proof of; accordingly, their paintings are characterized by a cold range of colors, such as blue, green and gray. The thus attained melancholic and mysterious atmosphere is emphasized by the figure's and object's vague contours.
Main representatives are Pavel Kuznetsov, Pyotr Utkin, Anatoly Arapov, Nikolay Krymov, Nikolay Milioti, Vasily Milioti, Nikolay Sapunov, Martiros Saryan, Sergey Sudeykin and Nikolay Ryabushinsky. The group's organ was the magazine "Zolotoye Runo" (English: Golden Fleece), which was founded by Nikolay Ryabushinsky.
+
Sold lots Top 100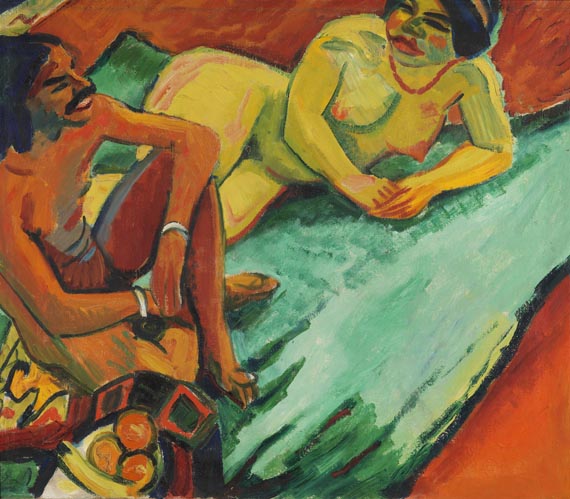 Hermann Max Pechstein