Dictionary

Glasgow School

Glasgow had become a meaningful industrial center by the end of the 19th century. A well-off upper class had an interest in art and contributed to the spread of new French trends in art in Scotland. This was a benevolent setting for the then most important Scottish contemporary artist, Charles Rennie Mackintosh (1868-1928), whose work was decisive for the "Glasgow School".
Together with Herbert MacNair and the sisters Margaret and Frances Macdonald - all students of the "Glasgow School of Art" - Mackintosh founded the group "The Four" in 1896. They stood for an artisan concept that was strongly influenced by the "Arts and Crafts Movement", and used inspirations from Celtic art, the Pre-Raphaelite Brotherhood, Belgian Symbolism and occultism. Mackintosh's main work was the new building of the "Glasgow School of Art", which was constructed as a rhythmic body from solid and concave plains. The architecture's geometric structure and the decorative elements give Mackintosh's art its very own distinctive character. His furniture and interior designs are also characterized by the principles of geometric ornaments, as can be observed with the tea salons or the "Hill House", which he designed. His style attained great success, especially in Austria, where a more geometric variant of Art Nouveau was developed. The concept of a building as a work of art, which Mackintosh applied in the case of the "Hill House", was also quite popular in Austria. But it was not only in terms of architecture, the artist also designed the building's interior; walls, furniture, and even lighting were subject to the principle.
Other groups, similar to the "Glasgow School", were the so-called "Glasgow Boys" and "Glasgow Girls", which were respective student associations from the local school of applied art. Besides arts and crafts, some of them were also dedicated to painting, they stood for their own interpretation of Impressionism and Post-Impressionism. What they all had in common was the rejection of the Royal Academy's official art.

+
Sold lots Top 100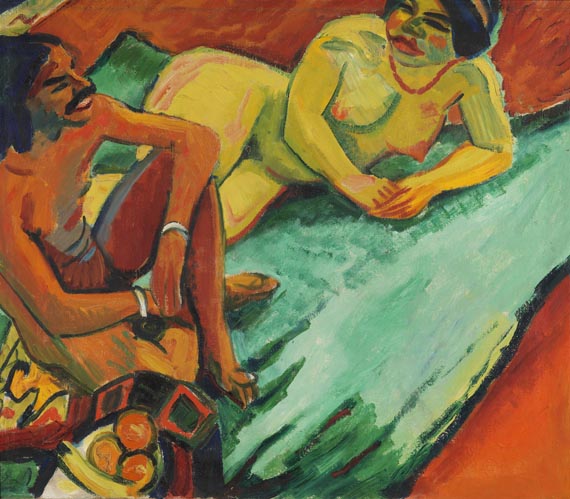 Hermann Max Pechstein