Dictionary

Frankfurt Kitchen

"How can household chores be facilitated for women by appropriate house building" - was the title of a writing by the Vienna designer and architect Margarete Schütte-Lihotzky (1897-2000) in 1921, and this was the very question the young architect strove to answer. She managed to find an answer by making a milestone of functional design, the "Frankfurter Küche" (Frankfurt Kitchen).
Margarete Schütte-Lihotzky's social and early feminist approach to facilitate and improve household work lead to a revolutionary new kitchen design. These changes had become inevitable due to the new social situation: Many women had to earn a living on their own after World War I, household work in its traditional form and working in a job had become an unbearable burden.
It was as early as in the first half of the 1920s that Margarete Schütte-Lihotzky encountered the American "Taylor System", which sought to rationalize industrial labor by measuring the individual work steps with a stopwatch. The translation of the American book "Rational Housekeeping", which tried to give advice on employing industrial work techniques on household chores, made for the basis of Margarete Schütte-Lihotzky's "Frankfurter Küche" (Frankfurt Kitchen) which she created on behalf of Ernst May at the Frankfurt municipal building department in 1926, a kitchen that would especially suit the workers' financial situation and the crowded living conditions in the aspired social housing projects.
The basic features of today's built-in kitchen had already been implemented: A kitchen block consisting of assembled industrially made modules that fill the available space instead of a single bulky cabinet. Margarete Schütte-Lihotzky elaborately designed the Frankfurtr Kitchen, the optimization of every work step had been figured out, each fitment was in its appropriate position: the haybox suited the needs of working women, practical aluminum chutes for dry goods, a movable lamp that would provide optimal lighting of the workplace. A lino-coated plate jointed the cabinets together, a work desk at seat height could be found below the window. All wooden parts came in blue, a color that scientist regarded as fly-proof. The Frankfurter Kitchen's functional perfection was rounded off by a design that was, despite its simplicity, harmonic and esthetic in terms of proportions, forms and lighting.
The kitchen was integrated in the first settlement projects of the "Neuen Frankfurt" (New Frankfurt); the concept gained in popularity after three different versions were presented in the exhibition "Die neue Wohnung und ihr Innenausbau" (The new apartment and its interior design) in 1927. The kitchen was not only acknowledged in Germany, but also abroad: France's Secretary of Labor even planned to furnish 260.000 apartments with the Frankfurt Kitchen in the context of a new mass housing project.
In the end some 10.000 kitchen were integrated in workers' apartments, however, only a few models can be found in museums today.

Cf.: Noever, Peter (editor): Die Frankfurter Küche von Margarete Schütte-Lihotzky, Berlin 1992.
+
Sold lots top 100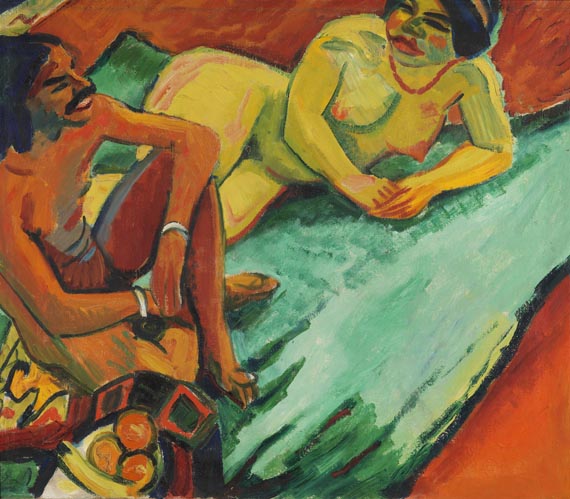 Hermann Max Pechstein