Dictionary

Frankenthal Painters Group

The representatives of the Frankenthal School of painters came together in the Frankenthal Palatine, as a result of the Protestant persecution in the Netherlands during the Reformation.
There, in 1562, they founded their own painters'school with the support of Calvinist Friedrich von der Pfalz.
The group favoured landscape painting and small-format paintings of forest landscapes, in particular, which were frequently romantic or dramatic settings for mythological or biblical scenes. This specific representation of landscapes and a colourful palate are characteristic features of the paintings.
Gillis van Coninxloo (1544-1607) was one of the main representatives of the Frankenthal school. The Spanish occupation of Amsterdam forced him to leave his home city in 1585. In 1587, he moved to Frankenthal, and returned to Amsterdam in 1595. Only one of his Frankenthal period landscape paintings is still in existence. However, his landscapes and later forest landscapes, in particular, had a strong impact on the development of the genre, influencing David Vinckboons, and Roeland Savery amongst others. In the "Schilder-Boeck," Karel van Mander praised van Coninxloo as one of the best landscape painters.
Pieter Schoubroeck (c.1570-1607) also belonged to the Frankenthaler school of painters, which was influenced by Gillis van Coninxloo. Alongside executing traditional landscapes, in which the rendering of light always played an important role, Schoubroeck specialised in portraying dramatic fires and nightly blazes.
+
Sold lots Top 100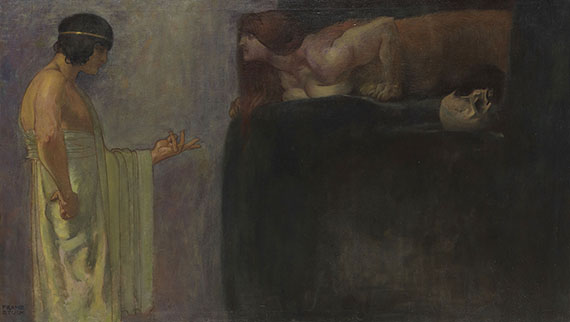 Franz von Stuck