Dictionary

Fluxus

Fluxus was a form of Action art, which arose concurrently to the Happenings at the end of the 1950s. Most of the key figures in the Fluxus movement were involved in the New York literature and music scene. The group included George Brecht, Dick Higgins, Alison Knowles, Jackson Mac Low, Yoko Ono, Nam June Paik, and George Maciuas. Some of the Fluxus artists had taken part in John Cage's New School for Social Research in New York, where they gained important inspiration for their work.
Fluxus encompassed representative, literary, pantomime-esque and fine art forms, as well as the production of objects, such as the Multiples, which played a central role in Fluxus artistic output. These editions were then sold at low prices. This borderless tension was intensified by the term "Fluxus", which by referring to the Latin verb' "fluere" (flow) emphasised the flowing together of various art forms. Fluxus was a form of anti-art - the artists experimented with unconventional forms of artistic expression, and like the Neo-dadaists, believed in overcoming the separation between art and life, although Fluxus can be regarded as a more of an attitude than a kind of artistic practise. The Fluxus artists were influenced by Futurism, Action painting, and Surrealism.
Fluxus was difficult to define, as Fluxus artists themselves made clear. George Brecht (1926-2008) claimed: "Fluxus tries to create a synthesis of everything that exists. Fluxus contradicts itself. A person contradicts themselves about Fluxus".
The Fluxus movement reached its zenith in the 1960s. In 1962, the three-week "International Fluxus Festival of the Newest Music" took place in Wiesbaden (where George Maciunas (1931-78) worked), and was the first of a number of events held throughout Europe.
Fluxus events were not precisely planned, but were rather based on loose ideas, with the players retaining a large degree of autonomy and space for experimentation.
They were characterised by witty, spontaneous, experimental, frequently minimalist and simultaneously mystifying actions. In contrast with the Happenings, they did not aim for audience participation, although the public's reaction could affect the course of events.
The events revolved around a concrete, non-symbolic act. This was exemplified in Emmett William's (1925-2007) opera, "Yes, it was still there", during which the protagonist hammered on a pan for 45 minutes, opening up a new realm of as yet unused acoustic material.
Fluxus influenced diverse art forms such as video art, mail art and conceptual art.
+
Sold lots Top 100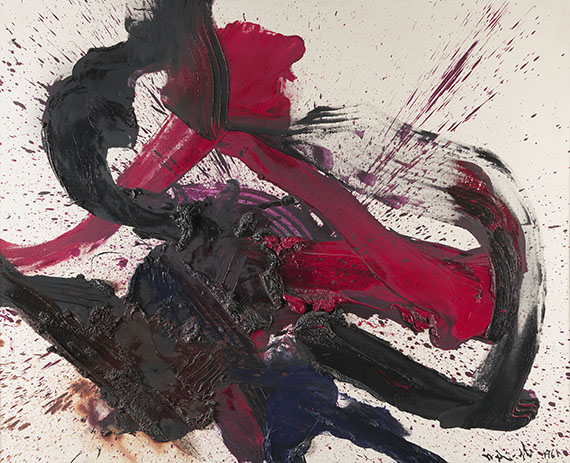 Kazuo Shiraga