Dictionary

Figuration Libre

"Figuration Libre", in English "Free Figuration", is regarded as a similar phenomenon as the Italian "Transavanguardia" and "Arte Cifra", the "Neue Wilde" (New Wild Ones) in Germany and the "New Image Painting" in North America.
As a reaction to the intellectualized and rational Concept Art, the French artists developed a figurative and individualized form of art in the 1980s, which can be classified in the context of the so-called Postmodernism.
In terms of style, it is difficult to reduce the artists of the "Figuration Libre" to a common denominator, especially as the tendency of an individualization of art was also in the foreground in France. Common features are the liberally treated concreteness as well as an often narrative focus. The artists of the "Figuration Libre" referenced elements from various epochs and different cultural levels, from high culture to everyday culture, which they put together in a free combination. François Rouan (born in 1943) mixed figurative and abstract elements, whereas Gérard Garouste reverted to opulent 19th century salon painting, entirely in the sense of "Posthistoire". Robert Combas (born in 1957) and Hervé Di Rosa (born in 1959) used the esthetics of comic strips and the subcultural art form Graffiti in their works. In this context, "Figuration Libre" must be seen in close connection with the parallel movements of "Posthistoire" and the "Graffiti Movement".
+
Sold lots Top 100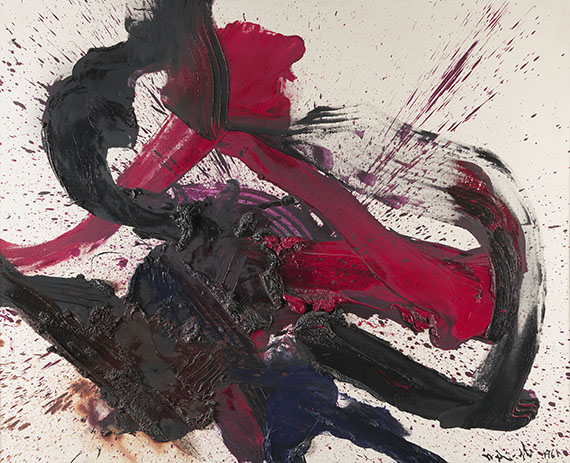 Kazuo Shiraga