Dictionary

European Impressionism

By the 1880s, Impressionism had spread not only to German-speaking nations, but also to other European countries.
The Impressionist tradition was particularly strong in Holland, where Johan Barthold Jongkind became a forerunner and exponent of French Impressionism. Another key Dutch Impressionist was the painter George Hendrik Breitner, who was in contact with the Haager School. In neighbouring Belgium, the highly artificial style of Neo-Impressionism was more popular.
Scandinavian painters also made independent and important contributions to Impressionism. Works by artists such as Fritz Thaulow (Norway), Vilhelm Hammershři (Denmark) and Anders Zorn (Sweden), display some Impressionist tendencies, and these can also be seen in Edvard Munch's early work. In Italy, the Realist Macchiaioli group executed works in an early Impressionist style. Other artists working in a more pure Impressionist style included Giuseppe de Nittis und Federico Zandomeneghi.
Impressionism also spread to Eastern Europe. In Hungary, key representatives of the style included Pál Szinyei Merse, Adolf Fényes and some of the artists in the open-air colony in Nagybánya. In the Czech Republic and Slovakia, artists such as Antonín Slavícek and Dominik Skutecký developed an Impressionist painting style. The Romanian Ion Andreescu was one of the main representatives of East European Impressionism.
In Russia, Impressionism inspired the second generation of Realism, which established itself successfully there. Impressionist influences characterised the late work of Ilya Repin. Valentin Serov executed Impressionist portraits and Isaac Lavitan worked as an Impressionist landscape painter.
+
Sold lots for Impressionism Top 100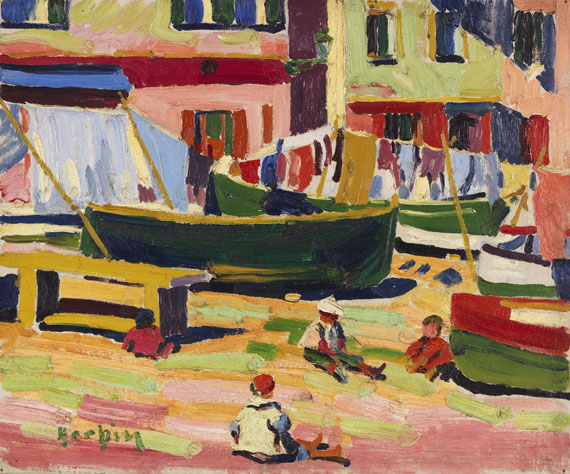 Auguste Herbin