Dictionary

English Classicism

Classicism in England developed right out of Baroque Palladianism. The country's civil development is generally regarded as a catalyst for England's epoch-spanning classicist attitude in the 17th and 18th century.
Despite this tradition, the focus of English Classicism had changed from around 1760 towards a reception of the classical era: Theoretic and artistic promoters of this change were Nicholas Revett (1720-1804) and James Stuart (1713-88) with their publication "Antiquities of Athens and Other Monuments of Greece" (1762) as well as the very influential Joshua Reynolds (1723-92).
The Scotsman Gavin Hamilton (1723-98), who was working as a painter mainly in Rome, counts among those who modernized the ideas of Meng and Winckelmann. Gavin brought the style from Rome to London, not least because of his excellent connections with the most important English collectors.
Robert Adam (1728-92) was both founding father and main representative of classicist architecture and interior design. Together with his brother James Adam (1732-94), he coined the decorative "Adam Style" (around 1760-90). Besides the Adam brothers, William Chambers (1728-96) was one of England's most renown masters of classicist architecture, the London "Somerset House" (1776-96) is regarded as his main work. The "British Museum" by Robert Smirke (beginning of construction in 1823) is yet another proof of English classicist architecture. John Nash (1752-1835) was a classicist urban developer with a liking for a large and symmetric style.
The prospering field of sculpting is represented by Richard Westmacott (1775-1856), who was a student of Canova in Rome, and Francis Chantrey (1782-1841). Another artist worthwhile mentioning is John Flaxman (1755-1826), who was a skilled silhouette painter due to his practice that sought orientation by ancient Greek pottery, he became an early and influential representative of Trompe-l'œil painting.
+
Sold lots for Classicism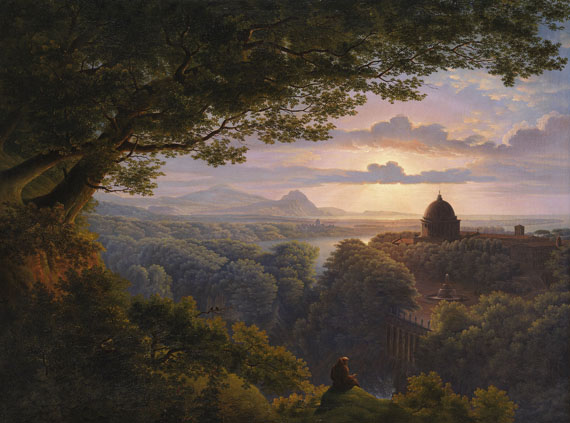 Karl Friedrich Schinkel