Dictionary

English 18th Century Art

The Enlightenment took place in England at an earlier stage and more intensively than elsewhere, and this mentality also influenced art on the island. Palladianism, which dominated high baroque architecture, only allowed a short phase for the introduction of baroque stylistic elements (John Vanbrugh, 1664-1726). By the second half of the 18th century, the classical style again moved into the foreground, which from the mid-1700s had taken an increasingly sober form (William Chambers, 1723-96).
The baroque-influenced, later classical English painting of the period is of a high painterly quality and consisted of atmospheric landscapes, morality paintings and portraits. In the early 1700s, English art was influenced by van Dyck's followers and Dutch art, but William Hogarth (1697-1764) paved the way for a new kind of English painting. Hogarth executed portraits with a painterly-realistic grasp, and moralistic, frequently humorous genre scenes in the form of caricatures. In his book "The Analysis of Beauty"(1753), Hogarth referred to a "line of beauty", serpentine lines, which were subsequently frequently used as the compositional basis for pictorial elements.
Thomas Gainsborough's (1727-88) oeuvre included landscapes, and portraits set in front of a landscape background. These were more representative than Hogarth's realistic renderings, but were nonetheless highly sensitive and naturalistic. His key works include the "The Blue Boy" (1770), which is now displayed in the Huntington Art Gallery. Joshua Reynolds (1723-92) was the third figure to make up this constellation. The influential painter studied the old masters - Michelangelo, the Venetians, Rubens and Rembrandt- and devoted himself primarily to portraiture, particularly of children. His application of the academic "grand manner" in his portraits evoked history painting and was highly successful. Another popular portrait painter was George Romney, and other significant landscape painters of the period include Richard Wilson, John Robert Cozens and John Crome. During the 1800s, English garden design moved from baroque to landscape gardening.

+
Sold lots Top 100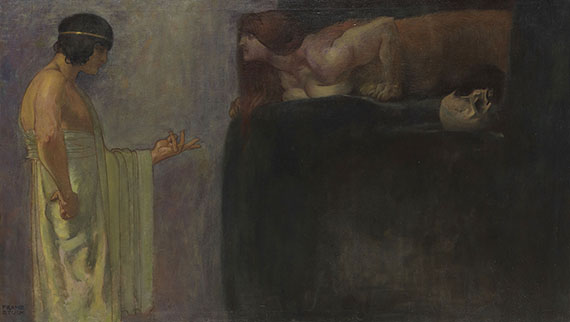 Franz von Stuck