Dictionary

Ekensund Artist Colony

Little is known today about the artists' colony that existed in Ekensund on the Flensburg Fjord as of 1875, just as the place's rough beauty in those days can hardly be imagined in our days.
The charming nature around the town had attracted many artists in the 19th century; Christoph Wilhelm Eckersberg (1783-1853) and Louis Gurlitt (1812-97) valued the place's ambience in terms of lights and colors.
The Ekensund artists'colony arose as of around 1875, when Heinrich Rasch (1840-1913) made his studies there and Gustav Schönleber (1851-1917) traveled the region, afterwards he would send his students from Karlsruhe to Ekensund. Local painters had already gathered there in a loose group: Heinrich Petersen-Flensburg, Johannes Knutz, Fritz Stoltenberg, Heinrich Petersen-Angeln, Erich Kubierschky, Wilhelm Dreesen, Theodor Sander, Jacob Nöbbe and others.
The artists were united by their liking for en plein air painting, just as this was true for so many other painters' colonies. True documents of this practice are Jacob Nöbbe's paintings "Bildnis Wilhelm Dreesen in Ekensund" and "Bildnis Alex Eckener in Ekensund" from 1893, both executed in the open on the easel.
A characteristic feature of the Ekensund paintings were the brickworks and, of course, the Fjord landscape, that was bathed in an extraordinary light. Portraits, the main subject of Otto H. Engel (1866-1949), who joined the colony in 1892 and would become one of the group's most important members, were a second group of Ekensund motifs. Connections with other colonies, for instance with Skagen, can be proven, even the "Neu-Dachauer" (New Dachau Artist) Arthur Langhammer came to Ekensund several times.
Numerous artists, especially from the Karlsruhe academy, but also from Berlin, Hamburg or Munich, spent the summer months in Ekensund, creating remarkable works, such as those by the Berlin artist Hans Looschen.
+
Sold lots top 100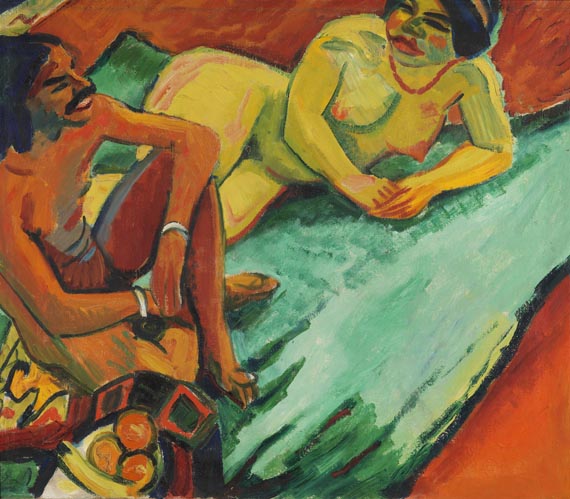 Hermann Max Pechstein