Dictionary

Eat Art

Eat art was invented by Daniel Spoerri (born 1930) in the 1960s, as a culinary extension of his artistic work. Eat art encapsulated the Neo-dadaist desire for an increased intervention of life into art.
Spoerri coined the term "Eat art" for his particular brand of Object art.
The artist decided to work with food because he wanted to explore the significance of nutrition in human existence. Spoerri tried to establish what was suitable for consumption and its connection with taste. These questions led him to invent experimental dishes such as mashed potato ice cream, and open the Palindromic Diner, where the appearance of the dishes suggested that the guests were starting their meal with coffee, but ingredients and preparation were adapted to a normal menu sequence, so that the espresso turned out to be soup.
Spoerri, who owned a large collection of cookery books, also published numerous texts about food, including the culinary column "Gastronoptikum" (1970) and a gastronomical diary ("Gastronomical Diary. Itinerary for two people on an Aegean island along with anecdotes and other stuff, as well as a treatise on the meatball" 1967). In 1968, the artist opened the Restaurant Spoerri in Düsseldorf, and two years later, founded the Eat Art Gallery above the restaurant. The art works shown there had to be edible or their materials derive from food-related fields. Works included Spoerri's bread dough objects and pieces by Joseph Beuys, César and Roy Lichtenstein.
Spoerri's creative focus was on food and nutrition, and the development of the "snare pictures" (tableau-piège), which contained leftovers from meals that had been attached to the table. Thus the artist included components of food in a materialised artwork.
+
Sold lots Top 100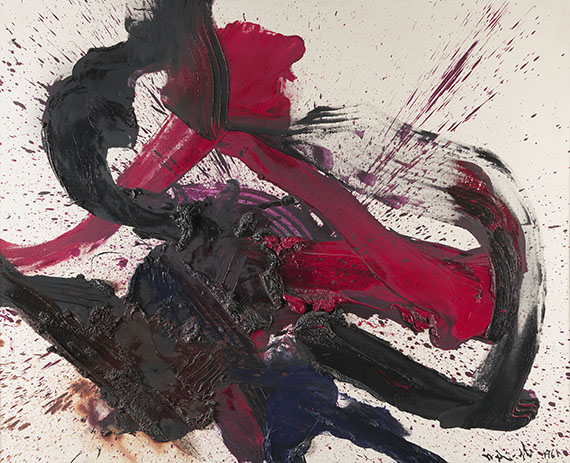 Kazuo Shiraga