Dictionary

Early Victorian

The period of Early Victorian style span the years between 1830 and 1850. The critic and landscape artist John Claudius Loudon explained as early as in 1833 that the strict classic style ("Greek Style") was unsuitable for country houses and cottages, in doing so the gradual overcoming of the classicist and neo-palladian style was introduced. A more picturesque design of buildings and a charming integration into the surrounding landscape was favored. Building forms that were actually classicist, were decorated with baroque or rococo elements. The houses were outfitted with wallpapers with large patterns and luscious colors. As far as furniture is concerned, there was a stronger tendency towards the French rococo as of the 1830s, returning to Louis-quinze, by using frisky forms, gilt tendrils and floral ornaments, for example on wall panels or cabinets. English rococo was also revived, mostly in form of furniture by Thomas Chippendale.
The "Gothic Revival" between 1840 and 1860 had a decisive impact: The decision to rebuild the parliament, which had been destroyed in a fire in 1834, in a gothic style was a major step (A.W.N. Pugin and C. Barry, 1840-70). In the course of this enterprise, a struggle between the gothic and the classic style gradually developed as 0f the 1830s, both fighting for dominance in the so-called "battle of the styles" up into the mid 1870s.
Genre, landscape and portrait were the leading subjects in painting. Portraits and city views also belong to the most favorite subjects of photography: As of the 1830s the English were experimenting with new methods of photography, such as daguerreotype and calotype.
+
Sold lots Top 100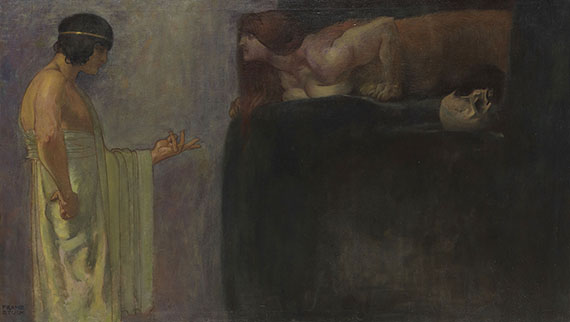 Franz von Stuck