Dictionary

Early Netherlandish Painting

Early Netherlandish - primarily Flemish - painting, executed between 1420 and 1500, is regarded as the peak of Northern Renaissance art. The artistic style developed from the Franco-Flemish "Soft Style", within cultural circles in the Low Countries. It was partially influenced by an almost photographic realism, which reproduced every element of reality with fine painterly delicacy.
This nature-orientated "Ars Nova" had several results. Gold ground backgrounds were replaced with various types of landscapes, human figures based on precise observation of nature – as demonstrated in the figures of Adam and Eve in Van Eyck's "Ghent Altar" - and the development of portrait painting.
In contrast to the Italian Renaissance, rather than emphasising construction, perspective and the underlying framework, early Netherlandish art focussed on surface and its structure. The varying substance of the materials were shown in an astonishingly realistic way, with the aid of a magnifying glass, the finest paintbrushes and, most importantly, via the newly developed medium of oil painting.

The Flemish style was not only popular in neighbouring Holland. Works such as the "Maniera Fiamminga" were intentionally exported to Italy, where they stimulated the production of local art (e.g. Antonello da Messina). Early German art or the French 15th century painting of Jean Fouquet would also be unthinkable without the achievements of the early Netherlanders. The style also had an impact on Portuguese (Nuno Goncalves) and Spanish art.
One of the main exponents of early Dutch painting was the Master of Flemalle (Robert Campin). His "Merode Altarpiece" (1425) is regarded as one of the most important early examples of the style.
Jan van Eyck (between 1390-1441), whose "Ghent Altar" was completed in 1432, is unsurpassed. His brother Hubert van Eyck has also been revealed as contributing to the altar. They were followed by various other masters, including Rogier van der Weyden (actually Roger da la Pasture, 1399/1400-64), Dieric Bouts, Petrus Christus, Hans Memling, Hugo van der Goes, and Hieronymous Bosch.

+
Sold lots Top 100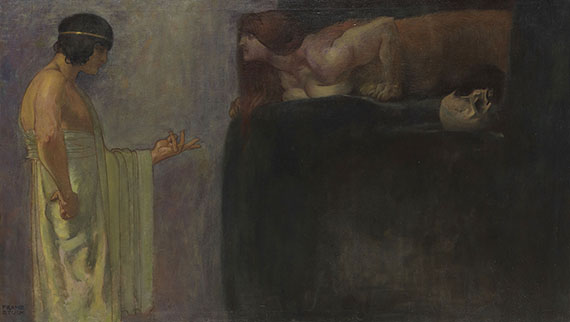 Franz von Stuck