Dictionary

The School of Concarneau

The origin of the "School of Concarneau" in Concarneau in Brittany around 1880 was closely linked with the town of Pont-Aven, some 15 km away, where Pleinarists had already gathered as early as in the 1860s, in order to paint rural subjects.
Weary of these rural subjects, some of the painters from Pont-Aven, the place where Gauguin would lay the foundation for Modernism a little later, went to Concarneau, where they were inspired by the maritime subjects that they depicted in their paintings.
Unlike Pont-Aven, Concarneau was not a small village, but a town offering a comfortable life. Two painters were already living there: Alfred Guillou and Théophile Deyrolle, who are regarded as the founding fathers of the "School of Concarneau". They were soon joined by Edward E. Simmons from Massachusetts, as one of the first painters from Pont-Aven, whom numerous other American artists would follow, among them Eugene Lawrence Vail, Howard R. Butler and Arthur W. Dow. Jules Bastien-Lepage joined the "School of Concarneau" in 1883, but Simmons unfortunately died only one year later. Regardless of this event - or perhaps because of it - he contributed a lot to the reputation of the artist colony of Concarneau, and his name would also attract many young artists. Among them numerous Scandinavians, such as Peder Severin Krøyer.
In terms of its importance for art history, the "School of Concarneau" shaped the development of new subjects in the decade between 1880 and 1890, as realistic subjects and genre subjects were combined in a new and harmonious manner in Concarneau.
+
Sold lots top 100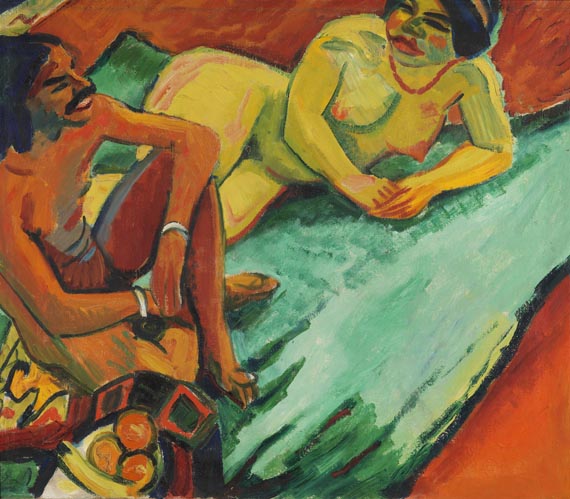 Hermann Max Pechstein