Dictionary

The Barbizon School

The name of the School of Barbizon comes from the small village of Barbizon on the outskirts of the woods of Fontainebleau. Parisian artists met in this idyllic place as of 1830, where they spent the summer months together. A prevailing mood that was made up of Positivism, urban flight and longing for a rural nativeness, was reflected in the phenomenon of the School of Barbizon, along with a newly arising national consciousness, which discovered the home country's beauty and made it a subject of arts accordingly. Thus, the Barbizon artists began to ennoble subjects that had so far been regarded as "unworthy", for instance the swamps and the edges of the forests, the creeks and the rural settlements. The painters of the School of Barbizon tried to capture their subject's characteristic atmosphere, the particular lighting conditions and the strange magic of the supposedly insignificant places.
An anti-academic landscape genre, the "paysage intime" also had its roots in the creative and close to nature atmosphere of Barbizon, a genre that continued the great achievements of Dutch Baroque landscape painting and those of the renown English painters John Constable, William Turner and Richard Parkes Bonington. The intimate landscape sought dissociation from the ideal landscape composed in the studio, as it was taught at the academies, and also from heroic romantic depictions of nature. The most suitable method for the artists of the School of Barbizon seemed to be en plein air painting, the image giving a direct account of nature.
Charles-François Daubigny (1817-78) was the first member of the School of Barbizon to make large sizes en plein air. Just as works by Théodore Rousseau (1812-67), the second protagonist of the School of Barbizon, his works are also characterized by a dark and clayey coloring. Unlike Jules Dupré (1812-89), the third relevant Barbizon representative, who made paintings in a strong coloring, depicting romantic atmospheres, just as works by Narcisso Virgilio Díaz de la Peña (1807-76). The animal painter Constant Troyon (1810-65), Jean-François Millet (1814-75) and numerous other artists joined the School of Barbizon over the years. Camille Corot (1796-1875), also stood in close connection to the School of Barbizon, however, he is not regarded as one of its members.
The School of Barbizon had an enormous influence on the development of Realism and Impressionism, with alternating members, it was in existence until the 1870s. Around the middle of the 19th century the school had attained international recognition, artists all over Europe would soon follow the French model.

+
Sold lots Top 100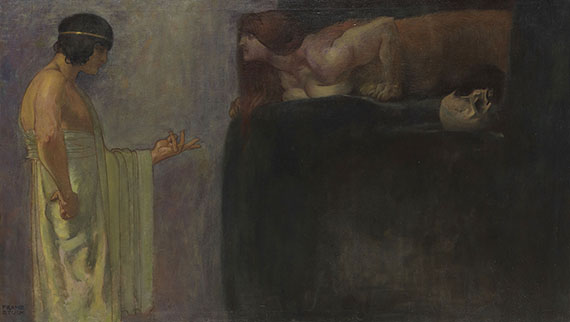 Franz von Stuck