Dictionary

Höri painters

The peninsula Höri is located in Lake Constance and thus in close vicinity to Switzerland, in the days of the National Socialist dictatorship many artists congregated there. Höri became a refuge for modernist artists in the 1930s and early 1940s, but the charming and rural peninsula had already been a popular refuge for artists before the war: Hermann Hesse lived on Höri for eight years before the first world war and brought numerous other poets with him, among them Ludwig Finckh. The painters Max Bucherer, Otto Blümel and Ludwig Renner discovered Höri's lovely landscape during this early period.
The years between the wars saw the second generation of Höri painters, whose most important representative was Eugen Segewitz (1886-1952). Other artists worthwhile mentioning are Walter Waentig (1881-1962), Willi Münch-Khe (1885-1960), Hugo Boeschenstein (1900-83) or Wilhelm Müllerzell (1894-1985). All Höri painters from this generation were from Baden, except for Walter Waentig, who all came, independent from one another, to Höri in order to paint the landscape and its people.
The third and most meaningful generation of Höri painters was of a completely different kind, this period began with Hitler's takeover, during the days of the National Socialists a lot of artists from the Rhineland, mostly from the circle around the important art dealer Johanna Ey (Mutter Ey), were almost evacuated to Höri.
Walter Kaesbach (1879-1961), art historian, was a part of the circle of Düseldorf modernist artists and director of the Düsseldorf academy of art until 1933, and played a decisive role in the process of the evacuation. In 1933, Walter Kaesbach was convinced by Helmuth Macke, cousin of the famous August Macke, who had already moved into a house on Höri, to settle on Lake Constance. Numerous artists from his group of friends would soon follow: Oskar Moll (1875-1947) visited Kaesbach for the summer months in 1934 and 1935, together with his students and friends, among them Rudolf Stuckert. Heinrich Nauen, Werner Gilles and Christian Rohlfs also counted among the Höri visitors.
After Otto Dix (1891-1969) had been laid-off in Dresden in 1933, he was the first to make Höri his place of permanent residence. At first he was put up by his brother in law, the Düsseldorf collector Hans Koch, until Walter Kaesbach commissioned him property. The Nauen students Curth Georg Becker (1904-72) and Ferdinand Macketanz (1902-70) also soon moved to Lake Constantia, just as Erich Heckel (1883-1970), who shared an emergency accommodation with Hans Kindermann in 1944. Jean Paul Schmitz (1949) and Rosemarie Schnorrenberg (1954), a student of Ferdinand Macketanz, joined their Düsseldorf artist colleagues in the years after the war. Max Ackermann and Walter Herzger moved to Lake Constance independent from Walter Kaesbach and the circle of Düsseldorf artists.
The third period of Höri painters cannot really be described as an artists' colony, and the painters, all individualist representatives of Modernism, also rejected this label, as it sounded out-dated by the 1930s. The congregation on Höri began its gradual breakup in the 1950s, when the refugees were called to important posts.
+
Sold lots top 100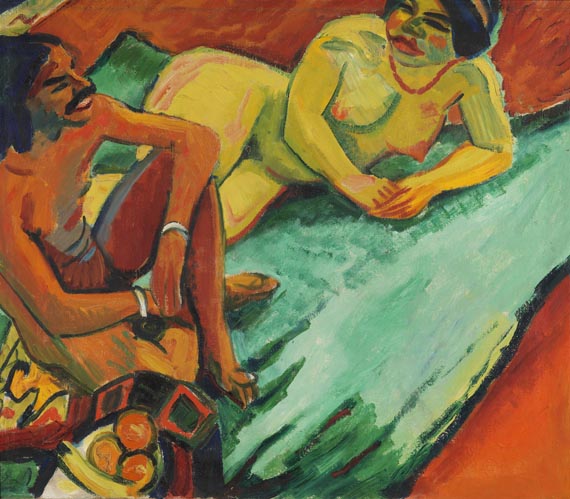 Hermann Max Pechstein